Caput medusae Air Plant
The Caput Medusae air plant is named after the mythological character Medusa, because of its curly, tendril-like stems. The Medusae is one of our most dramatic and exotic air plant specimens. With its unique shape and shiny bright green foliage with pink tips, it looks almost like a living sculpture. When the plant reaches maturity, it can even produce a shoot of bright red and pink flowers. Like all Tillandsia, this air plant is perfect for use in a terrarium, requiring only periodic misting and soaking for care. Use as a standalone piece on a windowsill, shelf or centerpiece, or group one of each size together for a dynamic trio. 
Small: approx 3-5"
Medium: approx 5-7"
Large: approx 7-10"
Includes detailed care instructions. Please note, each air plant is different and variation does occur - sold individually.
---
Customer Reviews
09/09/2019
Rachell S.
United States
First Air Plant!
This is my very first air plant! It isxsompretty! I really like this variety of Caput medusae. Ivecsern other air plsnts butvthey never appealed to me. This one has a beauty to it. I was thinking how air plants would make a good housewarming gift to someone who has newly moved! Im going to try some of the other varieties of air plants that Pistils offers! Always supurb quality.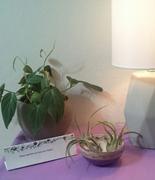 07/04/2019
Keith T.
United States
Beautiful Medusae Air Plant
Just received my air plant. As always with Pistals, it was packaged and shipped with care. The medusae is very large and healthy. Nice color and shape. I always trust Pistals for my house plants.
06/02/2019
Misti W.
United States
Awesome Air Plant
I received my Caput medusae Air Plant in perfect condition. It is much larger than I anticipated and I could not be happier. This is my first air plant and I plant to buy more from Pistils Nursery soon. I'm so glad to have found your website and you have a loyal customer here in Texas.