Asplenium sp - Bird's Nest Fern
The Asplenium genus has many cultivars and subspecies, many of them sharing the common name "Bird's Nest Fern" after their nest-like growth habits. Some varieties have ruffle-edged foliage, some are rigid and spearlike, but each is composed of a rosette of bright green fronds, producing new growth from the center. These
ferns
can be found growing both epiphytically and terrestrially in their natural environment, which speaks to their versatile and adaptive character! When provided bright diffuse light and plenty of humidity, these plants are remarkably fast growing and resilient.
PLANT CARE
•
Light
: Perfect for medium to bright, indirect light
•
Water
: Allow to dry slightly between waterings. Water when first 1-2" of soil feels dry to the touch, or at first sign of wilt.
•
Considerations
: Thrives with humidity. Pet friendly!
WHAT TO EXPECT
You'll get a healthy Bird's Nest Fern from our assortment of different Asplenium cultivars that meets our rigorous quality standards in your choice of a 4" or 6" nursery pot. No two plants are alike,  and yours will have its own unique shape, size and personality; expect this natural variation from the photos.
Our plants include detailed care instructions as well as our Houseplant Best Practices guide, with information on how to repot, seasonal care and more!
We include shipping box warmers at no charge as needed. Got questions?
Check out our FAQ
!
---
Customer Reviews
Very healthy Bird's Nest Fern!
Very satisfied with plant. This is the first Birds Nest Fern I have ever owned.
08/25/2022
MYRNA W.

United States
Asplenium sp - Bird's Nest Fern
Everything I get from Pistils Nursery is superb including this Bird's Nest Fern.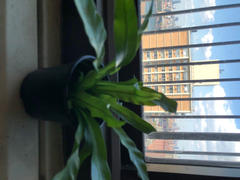 07/29/2022
Sharon W.

United States
Best nursery ever!!!
Beautifully packaged with extreme care. I have shopped at other online sites...this is the best. Plants are in wonderful condition and shipping very prompt. Highly recommend,