Hoya pubicalyx
Hoya pubicalyx is a vigorous vining plant with deep green lanceolate leaves, eager to climb up a trellis or cascade gracefully over the sides of its pot. Its leaves are often mottled with flecks of silvery variegation, and depending on how much light it receives, the stems can take on shades of purple. Native to the Philippines, we get many different cultivars of Hoya pubicalyx, such as 'Pink Silver,' and choose from the very best available. Eventually, clusters of fragrant star-shaped flowers appear on the vine which, depending on the cultivar, vary from white to pink, red and purple.
PLANT CARE
• Light: Perfect for bright, indirect light
• Water: Drought tolerant. Water when the top 1-2" of soil feels dry to the touch 
• Considerations: Use a well-draining soil, and select a planter with drainage. Pet friendly and great for beginners!
WHAT TO EXPECT

You'll get a healthy Hoya pubicalyx that meets our rigorous quality standards in your choice of a 4" or 6" nursery pot – Planter sold separately. No two plants are alike, and yours will have its own unique shape, size and personality; expect this natural variation from the photos.
Our plants include detailed care instructions as well as our Houseplant Best Practices guide, with information on how to repot, seasonal care and more!
We include shipping box warmers at no charge as needed. Got questions? Check out our FAQ!
---
Customer Reviews
01/21/2022
Juanita P.

United States
PLEASANTLY SURPRISED!
The packaging was superb! No leaves lost nor any soil all over! My hoya pubicalyx aka Persia (LOL), yes, I named her, is absolutely beautiful! She is FULL! I was pleasantly surprised!! I did not realize I was getting a SPLASH! Yay! She appears to be adjusting to her new home. Can't wait to see her bloom!!! Thank you, Pistils Nursery! I shall be ordering again!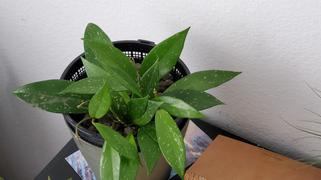 12/19/2021
Catherine E.

United States
Beautiful plant!
It arrived in excellent condition. Lush with several long stems promising new growth. Thank you!
11/06/2021
Cathy L.

United States
Love This
Better looking than the picture. Arrived beautifully.