Organic Potting Mix
Our organic potting mix is the perfect medium for all of your houseplants. Containing a mixture of horticultural-grade vermiculite, peat moss, bark, compost, worm castings, perlite, pumice and organic grade fertilizer, this soil provides moderate drainage and good moisture retention. Plus, its components are OMRI listed for organic gardening.
Repotting will give your plants a gentle nutrient boost, as the soil includes a light fertilizer with a N-P-K ratio of .05-0-0. For a quick succulent/cactus soil blend, try mixing 50:50 soil to pumice.
Each bag contains 1 qt potting mix, unsettled – approximately enough to pot up two 4" plants or one 6" plant (depending on container size). Ships in a biodegradable bag.
---
Customer Reviews
07/28/2020
Megan M.
United States
Great mix
Great mix, shipped fast!
07/26/2020
Megan S.
United States
Anything Pistils=Quality
I cannot thank Pistils enough, this wonderful company is as trustworthy as they come! Everything I have ordered from them, including this wonderful potting mix, has been A+ and then some! You can just see how much effort and care is put forth in everything they do, and it truly shows in their products and customer service! I hope and pray this company begins to BOOM because if anyone deserves a huge multi-million dollar business- its Pistils!! On the fence about this potting mix?? DON'T BE! I was using Happy Frog organic mix, the ocean one I forget the actual name but it got all moldy every single time I put it into a pot. The mix in the bag wasn't moldy but every single time I went to use it in a planter, mold. This mix not only took care of that problem, but my plants perked up and one even sprouted a baby within 3 days of changing to Pistils Potting Mix!! All of my plants love it-> even the finicky ones, Much Love to Pistils, Megan Styles, a grateful Plant Mom who LOVES AND ADORES Pistils Nursery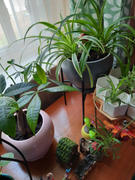 07/25/2020
Rachell S.
United States
Second purchase. Even better!
I bought some Organic Potting Mix earlier this spring for a Prayer Plant. It's doing so well! During this difficult time of the Covid-19 pandemic, one of my joys is taking care of my plants. Yet going out to a local home improvement store to buy potting soil was risky. So I once again ordered the Organic Potting Soil from Pistils. Its even better than before. My plant is already growing like crazy! The small size is perfect for balcony gardening. Thank you!