Rhaphidophora hayi
Rhaphidophora hayi is an unusual shingling aroid from tropical Asia with oval dark green foliage. Shingling is a growth habit in which a climbing plant's foliage lies flat against a tree, rather than fanning outwards. Our Rhaphidophora hayi are rooted in soil and allowed to begin shingling up a cedar board. As they climb, the foliage will continue to grow larger, and, provided sufficient humidity, to lie flat against its climbing surface. 
PLANT CARE
• Light: Bright, indirect light
• Water: Water when the top 1-2" of soil feels dry
• Considerations: Incorporate a taller board or moss pole when repotting so your plant can continue to climb. High humidity encourages continued shingling
WHAT TO EXPECT

You'll get a healthy Rhaphidophora hayi that meets our rigorous quality standards in a 4" nursery pot with a wooden climbing board. No two plants are alike, and yours will have its own unique shape, size and personality; expect this natural variation from the photos.
Our plants include detailed care instructions as well as our Houseplant Best Practices guide, with information on how to repot, seasonal care and more!
We include shipping box warmers at no charge as needed. Got questions? Check out our FAQ!
---
Customer Reviews
04/16/2021
Ellen Y.

United States
doing very well
I am happy that you placed roots in some soil as the last one I had you had not and did not want to make a fuss. Doing very well with this addition . Thank you for the improvement .
12/31/2020
Kathy R.

United States
Just as expected
Right in the middle of winter my Raphidophora hayi arrived in perfect condition!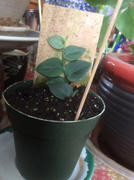 12/30/2020
Valarie I.

United States
So excited to receive this plant!
I have been wanting this plant for a while and it came in perfect condition. I can't wait to watch it grow.