Apothecary Aerium
These small-scale glass aeriums are simple, sleek and elegant. Called aeriums rather than terrariums because they house Tillandsia "air plants," these artistic creations liven up any tabletop, shelf or windowsill. Classic apothecary jars make the perfect homes for these botanical curiosities; to create an Apothecary Aerium is to design a tiny universe entirely unique
Air plants need no soil to survive, and they absorb moisture through their foliage, which makes care simple; simply remove the air plant from its container, soak in room temperature water, and allow to drip dry.
Specifications
Small: 125 ml / 2" x 4.24"
Medium: 250 ml / 2.5" x 5.25"
Large: 500 ml / 3.25"W x 6.5"H
The piece comes as a kit with detailed care and assembly instructions, and includes a Tillandsia air plant, a glass apothecary vessel with lid in your choice of size, and well as a mix of natural materials such as sand, pebbles, lichens and mosses.
The accompanying photographs depict typical aerium compositions. Feel free to make special requests.
---
Customer Reviews
03/30/2021
Madison J.

United States
Loved it!!
It was well packaged, easy to assemble, and so gratifying. Considering buying another.
02/26/2021
Norma W.

United States
Unique, adorable
These are a fun, decorative and adorable way to showcase the always unique airplane. I bought 2 sizes and they look perfect together! Plus, it helps with humidity for airplant health and happiness. Highly recommend - all sizes!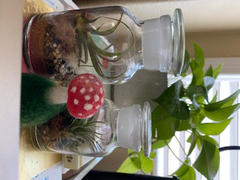 01/07/2021
Chike M.

United States
Cute and collectible
I was not expecting it to be so cute. I will be getting more as gifts