Bird's Nest Fern Cork Mount
Our Bird's Nest Fern Cork Mounts feature cultivars of Asplenium nidus mounted to natural cork with bright green sphagnum moss. These lush, tropical ferns form nest-like rosettes, with leaves emerging in a circular pattern from the center of the plant. Since they grow epiphytically on tree branches in their native habitats, it's no wonder they've been given the common name, Bird's Nest Fern. Fitted with a copper loop for easy hanging on the wall, our Bird's Nest Fern Cork Mounts are beautiful standalone pieces and look even better in sets of two or more.
PLANT CARE
• Light: Medium to bright, indirect light
• Water: When soil at base of plant feels barely moist, submerge entire mount in room temperature water until fully saturated
• Considerations: Mist your mount regularly, and reduce watering in winter.
WHAT TO EXPECT

We'll make your Bird's Nest Fern Cork Mount to order, choosing from our diverse collection of Asplenium species and cultivars to match the organic shape of the cork. 
The longest dimension measures about 7"-10". No two pieces are alike, and yours will have its own unique shape, size and personality - expect this natural variation from the photos, and feel free to include any preferences with your order.
All of our Plant Craft pieces include detailed care instructions. We include shipping box warmers at no charge as needed. Got questions? Check out our FAQ!
---
Customer Reviews
12/24/2020
Eileen S.
United States
Beautifully Made Cork Mount Plant
The plants arrived in perfect condition and were so easy to install on my walls. They are exquisitely composed and I love looking at them. I can't wait to order more. I also appreciated the personal touch of sending me an email to thank me for my order. Very responsive and caring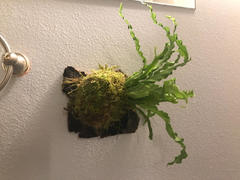 11/06/2020
Jackie H.
United States
Wonderful!
I bought two of the cork mounted plants and immediately upon hanging them I knew I needed more so I bought 4 others and now I have this wonderfully unique display in my bedroom. The plants arrived very carefully packaged and in great condition!
08/20/2020
Emiley P.
United States
Stunning
I'm absolutely thrilled with the quality of the plants. They were shipped all the way to me near Miami. Despite the intense heat and duration of the trip, the bird's nest just looked like it needed a drink. It perked back up within 30 minutes, no worse for wear. The plants cheered up my space instantly. I've already purchased one for a friend. Will definitely be back for more!