Staghorn Fern Cork Mount
We mount Staghorn Ferns on sustainable cork using bright green sphagnum moss to create these dramatic wall-hanging pieces. Staghorn ferns are members of the Platycerium genus, named for the shape of their unique antler-like fronds. As epiphytes that grow naturally in the crooks of tree trunks, they're ideal candidates for mounting, as they require little root space to thrive. Each of our staghorn fern cork mounts are fitted with a copper wire hook allowing them to be easily hung anywhere in the home.
Staghorn ferns thrive in bright, indirect light. To water, simply soak the entire piece in a sink or basin of water until thoroughly saturated. Includes detailed care instructions.
We make each piece by hand, choosing from our diverse collection of Platycerium species, such as P. bifurcatum, P. veitchii and P. 'Netherlands'. The images are intended to show the variety in appearance of these elegant ferns.
The natural cork segments we use are organically shaped. The longest side of your piece will measure approx 8-10". Please note, natural variation in plant and cork appearance may occur.
---
Customer Reviews
09/24/2020
constance w.
United States
My new staghorn fern
This is a lovely company to do business with. I sent a fern to my sister in California recently and then purchased a stag horn fern for my husband. It is adorable on its little cork base, very organic and perched up on the wall near the kitchen sink. I felt like a little pet had arrived when I opened the box. The company helps you track your order so it won't be damaged waiting for you to bring it inside and packages it safely and in an environmentally friendly way. We will be buying a few more ferns soon. Great company.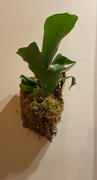 08/19/2020
Lynnette C.
United States
08/15/2020
Sarah B.
United States
Staghorn Fern Cork Mount
Beautiful and came in excellent condition. Can't wait to purchase again!