Hoya Cork Mount
To make our Hoya Cork Mounts, we mount these waxy-leafed tropicals on natural cork with sphagnum moss. Hoyas make fantastic hanging plants, as their long vines seem to grow without end. Also known as Wax Plants due to their semi-succulent foliage and sweet, porcelain flowers, Hoyas are an absolute favorite amongst our staff. Fitted with a copper loop for easy hanging on the wall, our Hoya Cork Mounts are beautiful standalone pieces and look even better in sets of two or more.

PLANT CARE
• Light: Bright, indirect light
• Water: When soil at base of plant feels nearly dry, submerge entire mount in room temperature water until fully saturated
• Considerations: Hoyas will show you when they're thirsty – water when the leaves start to pucker
WHAT TO EXPECT

We'll make your Hoya Cork Mount to order, choosing from our diverse collection of Hoya species (such as H. carnosa, H. pubicalyx and H. 'Krimson Princess') to match the organic shape of the cork. 
The longest dimension measures about 7"-10". No two pieces are alike, and yours will have its own unique shape, size and personality - expect this natural variation from the photos, and feel free to include any preferences with your order.
Our Plant Craft pieces include detailed care instructions. We include shipping box warmers at no charge as needed. Got questions? Check out our FAQ!
---
Customer Reviews
08/22/2021
Aimee K.

United States
Love it
I am very happy with the Hoya cork mount. I have it placed on a wall in my bathroom and so far it seems to like it there. There is a window but it is not in any direct sunlight. I'm always happy with my purchases from Pistils!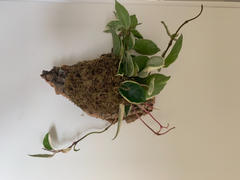 07/22/2021
Kathy R.

United States
Great Cork Mount
My Hoya Cork Mount is stunning and so healthy! You've done it again Pistils!
07/01/2021
Courtney T.

United States
Amazing cork mount
Wow! I first heard of Pistils after staying in an Airbnb in Portland. They had a mounted Burlap Fern in the bathroom and I fell in love. But once I went to the website, I realized I also had to get this Hoya Cork Mount. Pistils was very accommodating when I asked for a specific Hoya specie AND shipped to me in California. Everything turned up in great shape! Would love to order again.