Jungle Cactus Cork Mount
Our Jungle Cactus Cork Mounts feature tropical epiphyticic cactus specimens, mounted to cork with sphagnum moss and fitted with a copper loop for easy hanging on the wall. As epiphytes, jungle cacti are extremely versatile plants, content with very little root space and tolerant of a wide variety of light conditions. This is an ideal plant for the beginning indoor gardener, as jungle cacti are fast-growing, easy to care for and very forgiving. Jungle Cactus Cork Mounts are beautiful standalone pieces and look even better in sets of two or more.
PLANT CARE
• Light: Tolerates low light, but thrives in medium to bright, indirect light
• Water: When soil at base of plant feels dry, submerge entire mount in room temperature water until fully saturated
• Considerations: Jungle cacti will show you when they're thirsty - water when the foliage begins to pucker
WHAT TO EXPECT

We'll make your Jungle Cactus to order, choosing from our diverse collection of Rhipsalis, Hatiora, Epiphyllum, Selenicereus, Lepismium, and Schlumbergera species to match the organic shape of the cork. 
The longest dimension measures about 7"-10". No two pieces are alike, and yours will have its own unique shape, size and personality - expect this natural variation from the photos, and feel free to include any preferences with your order.
Our Plant Craft pieces include detailed care instructions. We include shipping box warmers at no charge as needed. Got questions? Check out our FAQ!
---
Customer Reviews
My dream mount
Pistils did such a great job with this! I left them some suggestions for what I wanted and they followed them to the T. It's perfect. It also made it safely and soundly all the way to Minnesota due to Pistils' great packaging and shipping. Love, love, love it.
12/12/2021
Deborah S.

United States
Awesome size
Really nice jungle cactus. Much lager than I was expecting.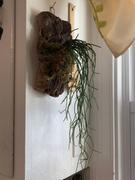 11/15/2021
Melissa d.

United States
Gorgeous as always!
I love the cork mounts esp these! Very hardy and well packed.