Oasis in the Desert
To create these dynamic pieces, we've tucked our favorite Rhipsalis and Hatiora species into the pockets of dried Cholla wood, making a "potted" plant entirely from natural materials. Rhipsalis and Hatiora are genera of epiphytic jungle cacti, tolerant of lower light and more moisture than their desert counterparts. Cholla, on the other-hand, is a desert cactus native the Southwestern US that leaves behind a unique hollow, porous wood. Combined, the result is our Oasis in the Desert: vibrant free-standing mounts that mimic the way jungle cacti grow in the crooks of tree branches in their natural habitats. Since Jungle Cacti are so easy to care for, these versatile pieces can add a pop of green to just about anywhere in your space. 
PLANT CARE
• Light: Low to bright indirect or dappled light
• Water: When moss at base of plant is dry, soak in a sink or basin of room temperature water until fully saturated.
• Considerations: Take care not to over-water; the foliage will pucker slightly when the plant is ready for a drink
WHAT TO EXPECT

We'll make your Oasis in the Desert to order, choosing from our diverse collection of Rhipsalis and Hatiora species. No two pieces are alike, and yours will have its own unique shape, size and personality - expect this natural variation from the photos, and feel free to include any preferences with your order.
Small: ~2-3" tall Cholla piece
Medium: ~3.5-4.5" tall Cholla piece
Large: ~5-6" tall Cholla piece
Our Plant Craft pieces include detailed care instructions. We include shipping box warmers at no charge as needed. Got questions? Check out our FAQ!
---
Customer Reviews
04/24/2021
Laurie P.

United States
Very Pleased
Such a unique plant presentation! Love the texture contrasts. Arrived in perfect condition. I am already considering ordering another one. If you are looking for an unusual gift, these beauties are perfect!
03/30/2021
Yuliya M.

United States
Beautiful
I got my plant in good condition, watered it as provided by directions and it was like brand new. Packaging, communication and delivery is awesome. Wonderful company to deal with, very honest and attentive to the smallest of details! Great company to buy from.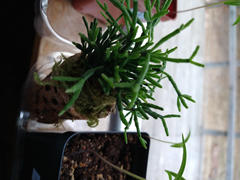 03/24/2021
Tracey W.

United States
Gift for my mom
I gifted this to my funky plant loving mom for her birthday. She was happy to add this to her cactus collection!