Blue Eagle Ceramic Mug
Warm beverages have never been so appealing as when sipped from these handmade ceramic mugs. Artfully crafted by a husband and wife team, these mugs are made of stoneware clay, and each piece is hand thrown on the wheel. On each vessel, a warm soft white, creamy in texture, sometimes has a hint of a very light cinnamon look. The accent colors are teal and toast with streaks of black and watermelon to create a stylized southwest landscape appearance. 
Food and beverage safe. Measures approximately 4.5" wide by 5.5" tall.
---
Customer Reviews
08/13/2019
Sonya G.
United States
My new favorite mug
I have had this mug for about a week and it has quickly become my new favorite! There is something so comforting about the shape of the mug and the way the rim hugs your lip as you take a sip. I usually choose neutral colors for ceramic ware but this color combination really compliments the whole experience of the mug. I love that it's handmade and that my purchase supports small family business.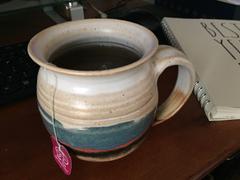 Blue ceramic eagle mug
So nice I bought it twice
Love it
I adore this mug, it's big and can fit lots of coffee of tea. Absolutely beautiful and perfect for winter!