Activated Charcoal
Activated charcoal is our preferred base layer for planting in pots without drainage holes. Sometimes called horticultural charcoal, it is "activated" by processing it at very high temperatures. This increases its absorptive properties, which can help protect plants from over-watering. Charcoal is naturally anti-microbial, with a great capacity to absorb impurities and other toxins, helping protect soil and roots from bacterial and fungal growth. 
Perfect for terrariums, cachepots, and other closed planting vessels and suitable for use with all houseplants! Add a ¼" - ½" layer at the bottom of vessels without drainage holes, and then pot following normal procedure using clean potting soil. Take care not to over-water.
12oz bag, sufficient for use in  3-4 four inch pots or 2-3 six inch pots. Ships in a biodegradable bag. 
Due to customs restrictions, Activated Charcoal cannot be shipped internationally.
---
Customer Reviews
Activated charcoal is an absolute must five ⭐️
I'm fairly new to the indoor plant world. Weithbyhat said I would go nowhere else but pistil's nursery. Iwas born and raised in Portland Oregon however living in Phoenix Arizona now and thank heavens for this shop. They've taught me so much on how to create my own urban jungle here in the desert. Can't live without this activated charcoal for my adorable pots with no drainage. Highly recommend!!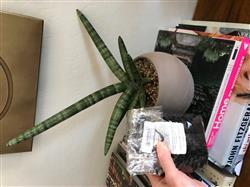 Very nice product
I didn't even know that I could use activated charcoal to help my plants get better drainage. I'm really excited and I've started to use some already. Trying to be a better plant Mom and this is helping. Thanks!
Uh it's charcoal
Don't message me again