Good Dirt Indoor Potting Mix
Designed with the indoor gardener in mind, Good Dirt Indoor Potting Mix contains a unique mixture of sustainably harvested peat moss and BogBits, a recycled by-product from North American peat bogs that adds porosity to the soil. This creates the right soil structure to provide your houseplant's roots that perfect balance between moisture retention and air circulation for optimal growth indoors. Finished with a bit of their organic Plant Food and Probiotics, this is a living soil, ready to support your plant from transplant to maturity, bloom and beyond.
Each compressed bag loosens to 12 quarts, enough to fill up to six 6" pots (0.2 CF FT compressed, 3.8lb). This product is not intended for use with succulents and cacti.
Bag dimensions: 17" x 7" x 3.75"
---
Customer Reviews
Couldn't ask for a better potting soul!!
I discovered this great potting soil by writing to Pistils Customer Service because I'd had a bad experience with some soil I bought locally in the garden section of a large hardware store locally. I asked for information on potting soil and what might be better. Good Dirt Indoor Potting Soil is all I was told it would be....and more! I was hesitant to buy online as I imagined a big bag of soil being shipped to me, but this soil is packaged very compactly! There was no mess and it came in a small size box. My plants potted in this soil have already grown. They had been rather dormant in their old pots with the soil they came in when I bought them. Both plants were purchased years ago. Both the same size.The plant in the green planter has been reported with the new Good Dirt soil. It's leaves are much fuller and happier. They had been turning yellow and drooped quite a bit, even after watering. Can't wait to repot my other plants!!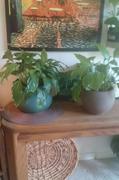 Good Dirt Potting Mix
The soil seems to be somewhat dry and not moist like the picture looks. If course, I haven't used it on any plants. Jodie B.