Calathea makoyana - Peacock Plant
If you love patterns, you'll swoon over Calathea makoyana. The Calathea genus boasts some of the most spectacularly decorated foliage in the plant world, and C. makoyana is no exception. Its pale green leaves are patterned with thin lines and larger ovals of dark green, making them look almost like feathers. For this reason, Calathea makoyana's nickname is "Peacock Plant." The undersides of the leaves are dark purple, and the mature plant grows to around 2' tall, occasionally putting out a show of tiny white flowers.
PLANT CARE
• Light: Medium to bright, indirect light
• Water: Water when the top 1" of soil feels dry
• Considerations: Like most Calathea, the makoyana does not like to dry out. High humidity and persistent watering will help this plant thrive. Pet friendly!
WHAT TO EXPECT

You'll get a healthy Calathea makoyana that meets our rigorous quality standards in a 4"  or 6" nursery pot – Hand Thrown Ceramic Planter sold separately. No two plants are alike, and yours will have its own unique shape, size and personality; expect this natural variation from the photos - 6" plant shown.

Our plants include detailed care instructions as well as our Houseplant Best Practices guide, with information on how to repot, seasonal care and more!
We include shipping box warmers at no charge as needed. Got questions? Check out our FAQ!
---
Customer Reviews
10/25/2020
Alina B.
United States
Calathea Makoyana
This was my first time purchasing plants online! Once my plants were shipped from the nursery, they quickly made their way over to my apartment within a couple days. Receiving the package was fairly easy. My calathea was a little off-centered in its pot after opening the package, but after readjustment and a couple days my plant is full and healthy! Thank you Pistils staff for your quick responses to my inquiries and making my first online purchase very enjoyable. I'll definitely be ordering from this nursery again.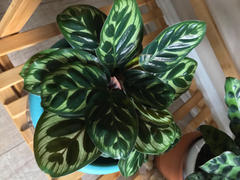 10/21/2020
Holly H.
United States
Gorgeous!
This was part of my first purchase from Pistils, and I was SO impressed with their communication and incredibly well packaged and cared for plants. The smell when I opened the box was earthy and fresh, and every plant was in perfect condition and clearly well tended. I will always try and purchase our plants from Pistils in the future!
08/24/2020
K G.
United States
Love it!
It came wrapped up & protected! She is a beauty! Can't wait to watch her grow!