Marimo Moss Ball
Marimo moss balls are incredibly fascinating aquatic plants, known in folklore as charms of good luck everlasting love. We adore their deep green color and spherical shape, which they get by tumbling gently in the currents of the lakes in which they grow naturally. Marimo, otherwise known as Aegagropila linnaei, are simple to care for and require only periodic water changes and medium indirect light to thrive. Whether you're adding marimo to your freshwater aquarium, or creating a unique aquascape, Marimo moss balls make a charming, decorative addition to any glass vessel. 
The Myth of the Marimo
In Japanese folklore, legend tells of two lovers, who desired nothing more than to be together. When their love was forbidden, the pair fell into the water of Lake Akon and their hearts became Marimo Balls. Marimo are said to bring your heart's desire to both the giver and receiver.
PLANT CARE
• Light: Low to bright indirect light
• Water: Change water every one to two weeks
• Considerations: Ensure this plant doesn't get any direct sun, which can cause browning. 
WHAT TO EXPECT

You'll get a healthy Marimo Moss Ball that meets our rigorous quality standards in your choice of large (about 1.5-2") or small (.75-1" ). No two plants are alike, and yours will have its own unique shape, size and personality; expect this natural variation from the photos.
Our marimo include detailed care instructions, and ship moist in a ziplock baggie. 
We include shipping box warmers at no charge as needed. Got questions? Check out our FAQ! 
---
Customer Reviews
01/15/2021
Greyson D.
United States
Fantastic
I bought two moss balls for my girlfriend and she loves them. They are very cute and look great on her desk. Thank you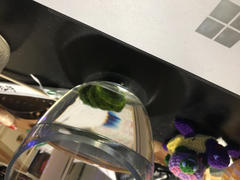 12/24/2020
Neha S.
United States
Love!!
I got these for my father, so beautiful and delicate. Arrived perfect and in great care! Definitely shopping again soon<3
12/15/2020
Jackie W.
United States
Moss ball
My package arrived quickly but on the coldest day so far. I open my package and both my items were well packed and in great shape but a bit cold. My Moss ball is looking and doing great!