Tradescantia 'Nanouk'
Tradescantia 'Nanouk' is a highly variegated cultivar whose pianterly foliage looks to be stroked with dark green, mint, pink and magenta. Its leaves grow densely along sturdy vining stems, and are on the larger side compared with other Tradescantia species. Like most other members of the genus cultivated for growing indoors, Tradescantia 'Nanouk' is very easy to care for, and a vigorous grower, and its trailing growth habit make it a great choice for a hanging planter.
Plant Care
• Light: Thrives in bright, indirect light
• Water: Water when the top 1" of soil feels nearly dry
• Considerations: Bright light will help Tradescantia 'Nanouk' maintain its variegation. Take care not to let it fully dry out
What to Expect

You'll get a healthy Tradescantia 'Nanouk' that meets our rigorous quality standards in your choice of a 2" or 4" nursery pot – Planter sold separately. No two plants are alike, and yours will have its own unique shape, size and personality; expect this natural variation from the photos.
Our plants include detailed care instructions as well as our Houseplant Best Practices guide, with information on how to repot, seasonal care and more!
We include shipping box warmers at no charge as needed. Got questions? Check out our FAQ!
---
Customer Reviews
01/14/2021
April D.
United States
Tradescantia 'Nanouk'
My Tradescantia 'Nanouk' arrived in perfect condition and very healthy. So tiny and adorable, can't wait to watch her grow.
01/14/2021
Rosa M.
United States
Perfect
This is a plant I grew up with. Being from the Tropics allowed me to grow up surrounded by plants. My family was not unusual. Now in my 50's my mental health craves for that canopy. The plant arrived safe and as usual, in perfect condition. It is small but I know it's healthy and it will grow!! Worth purchasing from PistilsNursery.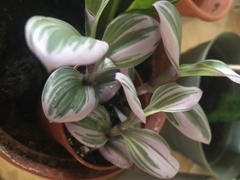 01/14/2021
Edlin N.
United States
Adorable!
Plant arrived in great condition, the cutest little 2 inch planter. It was wrapped up nicely which kept it safe during transit. Looks healthy, and a week later it looks like it's thriving! Highly recommend.