Sansevieria ehrenbergii 'Samurai'
Alternating leaf pairs fan out to create the appealing structural growth habit of Sansevieria ehrenbergii 'Samurai'. This hard to find, dwarf cultivar stays delightfully compact, growing to just around 6" tall, which makes it a great choice for small spaces. Just as simple to care for as other Snake Plants, it tolerates very low light and is very drought tolerant. Though this plant is quite slow growing, as it matures it creates 'pups' that emerge around the central plant. 
PLANT CARE
• Light: Low to medium, indirect light
• Water: Water when fully dry
• Considerations: Sansevieria ehrenbergii 'Samurai' requires very low maintenance. Jus take care not to over-water!
WHAT TO EXPECT

You'll get a healthy Sansevieria ehrenbergii 'Samurai' that meets our rigorous quality standards in a your choice of a 2" or 4" nursery pot. No two plants are alike, and yours will have its own unique shape, size and personality; expect this natural variation from the photos.
Our plants include detailed care instructions as well as our Houseplant Best Practices guide, with information on how to repot, seasonal care and more!
We include shipping box warmers at no charge as needed. Got questions? Check out our FAQ!
---
Customer Reviews
08/11/2020
Kelley L.
United States
You guys are the best!
Love this little snake plant. I needed a small. slow growing plant for a tiny pot I had and this was just the right one. Arrived all the way across the country along with my mounted Staghorn fern in perfect condition. Love the email updates, love your products and love all the Inspiration I get from you. Hope to visit your store in person once we can resume travel. :-)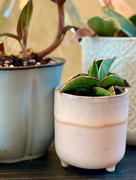 08/07/2020
Jamie D.
United States
08/04/2020
Keva R.
United States