Philodendron 'Pink Princess'
With its striking, deep burgundy leaves splashed with electric pink variegation, it's no wonder that Philodendron 'Pink Princess' has earned the status of royalty in the indoor plant world. Young leaves emerge a dark olive-green, maturing to a deep black brushed with pink. A natural climber, this philodendron is a great candidate for staking with a trellis or moss pole, which encourages large, healthy leaf growth. While it may not not be the easiest Philodendron in our collection, it sure is one of the most beautiful.
PLANT CARE
• Light: Bright, indirect light
• Water: Water when the top 1-2" of soil feel dry
• Considerations: Use a well-draining, chunky soil mix to promote air circulation to roots. Without adequate light and support for climbing, new leaves will become quite small
WHAT TO EXPECT

You'll get a healthy Philodendron 'Pink Princess' that meets our rigorous quality standards in a 6" nursery pot. No two plants are alike, and yours will have its own unique shape, size and personality; expect this natural variation from the photos.
Our plants include detailed care instructions as well as our Houseplant Best Practices guide, with information on how to repot, seasonal care and more!
We include shipping box warmers at no charge as needed. Got questions? Check out our FAQ!
---
Customer Reviews
11/30/2021
Elizabeth C.

United States
UPS - be better
This beautiful Pink Princess was packaged very carefully, you can see how much care was taken only to have UPS not only delay in freezing weather but use the box as a soccer ball and smash on end open. I am very relieved to say that the detail that went into packing this beautiful plant saved it. It may have lost some leaves but already perked up after a day. Thank you to the Pistils Team for taking such care in your packaging.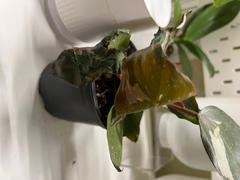 11/17/2021
Ashton K.

United States
Beautiful
Sent as a gift to my beloved sister and "Her Majesty" ( the plant) arrived in perfect condition.
10/28/2021
Melissa G.

United States
Everything I could have wished for!!
My PPP is everything I could have wished for! Beautiful pink variegation! It even has a new leaf coming. I am absolutely in love!! Thank you Pistils Nursery for making my plant wish come true!!