Araucaria heterophylla - Norfolk Island Pine
The Norfolk Island Pine isn't actually a pine at all. Rather, this ancient conifer is a member of the Araucaria genus, found endemic on the tiny Norfolk Island in the Pacific Ocean. Norfolk Island Pines make great houseplants, and – though slow-growing – can eventually grow into impressive tree-sized specimens. We love its soft foliage, symmetrical growth habit and festive appearance. Though native to the tropics, the Norfolk Island Pine is just about the best way we've found to bring the seasonal charm of a coniferous forest indoors for the holidays, especially when wrapped in burlap.
PLANT CARE
• Light: Medium to bright indirect light
• Water: Water when the top 1" feels barely moist
• Considerations: Norfolk Island Pine is easy to care for – just never let the soil fully dry out!

WHAT TO EXPECT

You'll get a healthy Norfolk Island Pine that meets our rigorous quality standards in your choice of a 4" or 6" nursery pot - Marbled Clay Cachepot sold separately. No two plants are alike, and yours will have its own unique shape, size and personality; expect this natural variation from the photos.
Our plants include detailed care instructions as well as our Houseplant Best Practices guide, with information on how to repot, seasonal care and more!
We include shipping box warmers at no charge as needed. Got questions? Check out our FAQ!
---
Customer Reviews
01/22/2022
Amy S.

United States
Norfolk Pine
I'm thrilled with my new Norfolk Pine. It arrived in perfect condition. I will enjoy watching it grow.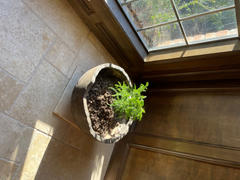 12/18/2021
Rhys H.

United States
Perfect!
This lil Norfolk Pine arrived in perfect condition and seems to be doing really well a few weeks in! I'm just so happy with this lil tree!
11/05/2021
Elise H.

United States
So far, so great!
Of course, I just received the plant a few days ago… but I love it! It was packaged so safely and was just perfectly snuggled in there. Healthy, happy, lush. "Pistil, may I place another order?!"