Philodendron hederaceum 'Brasil'
Philodendron hederaceum 'Brasil' is a wild and bold cultivar of the classic Heartleaf Philodendron. Its variegated leaves look almost painted, with strokes of yellow and lime green across the deep green foliage. As if that weren't tropical enough, the stems have pinkish orange hue. Tolerant of a wide range of light conditions, this plant is a prolific grower, producing long cascading vines that can easily reach the floor. Like its cousin, the standard green Heartleaf Philodendron, Philodendron 'Brasil' is extremely easy to grow - no green thumb required. 
PLANT CARE
• Light: Low to bright, indirect light
• Water: Water when the top 1-2" of soil dries out
• Considerations: Trim leggy vines to promote a bushier growth habit - the tip cuttings can be easily propagated! 
WHAT TO EXPECT

You'll get a healthy Philodendron hederaceum 'Brasil' that meets our rigorous quality standards in a your choice of a 4" or 6" nursery pot-Hand Thrown Ceramic Planter sold separately. No two plants are alike, and yours will have its own unique shape, size and personality; expect this natural variation from the photos.
Our plants include detailed care instructions as well as our Houseplant Best Practices guide, with information on how to repot, seasonal care and more!
We include shipping box warmers at no charge as needed. Got questions? Check out our FAQ!
---
Customer Reviews
09/16/2021
Michelle R.

United States
Beautiful plant
This was so much nicer than I expected. It was full of leaves and completely intact upon arrival. I will definitely order from Pistils again!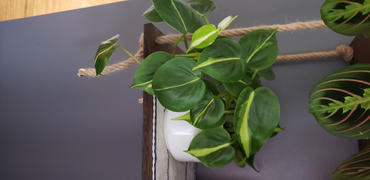 09/10/2021
Aimee F.

United States
Pretty!
Nice and full for a 4 inch pot! It's getting adjusted to its new living conditions!
09/08/2021
Karla M.

United States
It's beautiful!
A very healthy plant that seems to be adapting to its new environment well.