Maranta leuconeura 'Marisela'
Maranta leuconeura 'Marisela' has striking oval leaves, dark green with a herringbone-like pattern of light yellow veining. Like most members of the Marantaceae family, the plant has a unique habit of folding its leaves upwards at night, which is why it's also known as the Marisela Prayer Plant. The plant has a trailing habit, and will eventually cascade over the sides of its pot, growing to about 12-18". As it matures, tiny lavender flowers appear on slender flower stalks, typically in summer. 
The Marisela Prayer Plant is low maintenance and great for beginners. Place in medium to bright indirect light and water when the top 1-2" of soil feel dry. Mist regularly.
- 4" pot: Each plant has multiple clumps, overall size 4-6"
- 6" pot: Each plant has multiple clumps, overall size 6-10"
Ships in a plastic nursery pot. Leaves measure about 3-4" long and 2-3" wide. Some natural variation in size and appearance may occur.
Planters sold separately. Includes detailed care instructions.
SHIPPING AND DELIVERY INFO
Items in our Specimen Plants collection require special pre-shipping preparation, and ship within 3-5 business days. You'll receive a shipping notification email with tracking when your order ships. Box warmer included at no additional charge as necessary during cold months.
International shipping unavailable due to customs restrictions. [More Info]
---
Customer Reviews
11/21/2019
Kierra B.
United States
Perfect gift
I was super worried about ordering this plant as it was late in the season. It arrived in perfect condition and I can't wait to give him as a gift.
10/30/2019
Michael M.
United States
WOW! JUST WOW!
I was in the market for a Maranta Leuconeura did a search and Pistils Nursery came up. I went ahead and placed the order knowing that I've had some horrible experiences with online shopping for plants elsewhere. Usually you get very small or unhappy plants. I was totally surprised when I pulled out my plant from its package, it was huge and beautiful! It is doing wonderful in its new home. THANK YOU SOOOOOO MUCH! Great plants!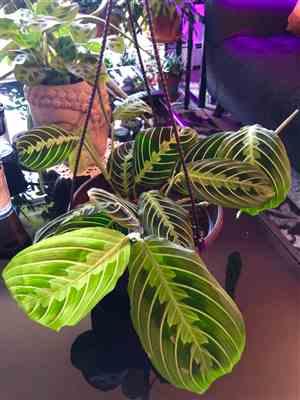 09/23/2019
Shipra C.
United States
Prayer plant goodness!
My plant arrived beautifully packaged, unharmed (all the way to the east coast!), a little stressed, but very healthy nonetheless. This is my second maranta, the first was from another shop on Etsy, and I have to say that this one is doing SO much better in my apartment, with the same amount of light, soil mix, humidity, and water. Thank you Pistils- you guys are so good and its a joy to buy from you :)