Monstera deliciosa - Swiss Cheese Plant
Current stock of Monstera deliciosa does not yet have split foliage, and are on the slightly smaller side. 
Monstera deliciosa has one of the most distinctive and enduringly popular leaves in the houseplant world. A darling of interior designers and the urban jungle movement alike, one need only check out #MonsteraMonday on Instagram to understand the massive appeal of this tropical plant. Nicknamed "Swiss Cheese Plant" for the splits and holes that characterize its leaves, this dense vine can grow to immense proportions, with leaves becoming ever more perforated as the plant matures. While it's not known exactly why the leaves develop their holes (called fenestrations), the leading theory is that by producing splits, the leaves have greater surface area and thus capture more light as they climb up trees in the understories of their native Central American jungles.
Our plants have leaves that are just beginning to split - your plant may not yet have holes, but should develop them soon! To promote mature leaves, give your Monstera deliciosa plenty of bright, indirect light and provide a support for the plant to climb such as a moss pole or trellis. Water when the top 1-2" of soil feel dry.
Ships in a 6" plastic nursery pot. Each specimen has multiple growth points, with overall height/width of 12-14". Some natural variation in size and appearance may occur.
Marbled Clay Cachepot sold separately. Includes detailed care instructions.
SHIPPING AND DELIVERY INFO
Items in our Specimen Plants collection require special pre-shipping preparation, and ship within 3-5 business days. You'll receive a shipping notification email with tracking when your order ships. Box warmer included at no additional charge as necessary during cold months.
International shipping unavailable due to customs restrictions. [More Info]
---
Customer Reviews
11/10/2019
Danielle D.
United States
Super Happy
I love my Monstera! It took about 2 weeks to get it but the weather wasn't so great when I ordered so I'm sure that caused some delay. It was packaged really well. Unfortunately, the biggest leaf fell off during shipping and there was some browning. But that was expected. I'm super happy with it and there's new growth!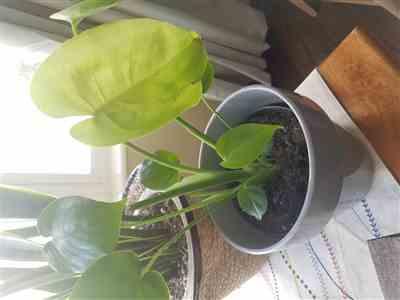 11/08/2019
Jessica R.
United States
Very nice plant
The monstera I received looks good, with several healthy leaves and some new ones coming in. There's a chunk out of one of the stems that would probably make me pass it over in a store, but most likely it won't affect the overall health of the plant. I'm looking forward to seeing my monstera grow.
09/08/2019
Caroline P.
United States
Love my new Monstera!
I've been wanting to add this to my plant collection and I'm so happy I chose mine from Pistils Nursery. they came packaged in a better condition than what I've seen at my local plant store. It's only been a few days and there is already a new leaf coming out that has the spit foliage so I'm super excited :)