Sansevieria 'Starfish'
Please note: Sale 4" plants are considerably smaller than shown in the photos.
This adorable Sansevieria cultivar is nicknamed 'Starfish' because of the way its alternating arms branch from a central growth point, making it look quite a bit like its namesake sea creature. Sansevieria 'Starfish' has a compact form, making it great for small spaces. Like all Snake Plants, the 'Starfish' is extremely easy to care for, thriving with little maintenance and great for beginners. Plus, Sansevieria are known for their ability to purify the air - perfect for a bedroom! 
PLANT CARE
• Light: Low to bright, indirect light
• Water: Water when the soil has fully dried
• Considerations: Tolerant of a wide range of light conditions - just be sure not to overwater. The foliage will pucker slightly when the plant is thirsty
WHAT TO EXPECT

You'll get a healthy Sansevieria 'Starfish' that meets our rigorous quality standards in your choice of a 2" or 4" nursery pot – Marbled Clay Cachepot sold separately. No two plants are alike, and yours will have its own unique shape, size and personality; expect this natural variation from the photos.
Our plants include detailed care instructions as well as our Houseplant Best Practices guide, with information on how to repot, seasonal care and more!
We include shipping box warmers at no charge as needed. Got questions? Check out our FAQ!
---
Customer Reviews
04/02/2020
Olivia N.
United States
Beautiful Plant
I have ordered a multitude of plants from Pistils and have always been impressed with the quality of plant. This plant in particular is hard for me to find locally and is usually very overpriced. Pistils has well priced plants and I like the option to subscribe when a plant is out of stock. If you haven't used that option, please do it!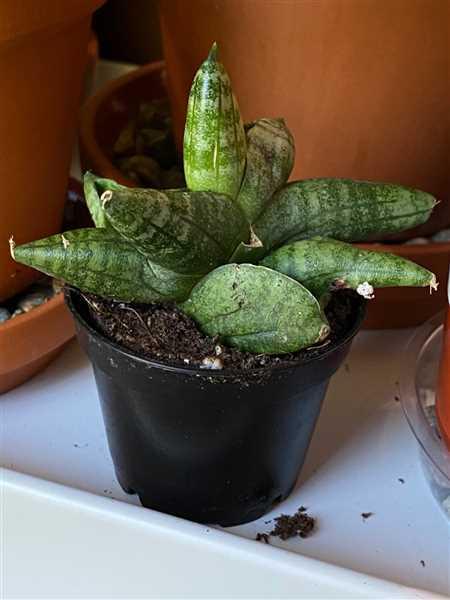 03/29/2020
Judy P.
United States
Sansevieria Starfish
Plant arrived well packaged and healthy. Much larger then expected, it has 2 pups. Thank you.
03/06/2020
Margaret S.
United States
Loved the sansevieria starfish plant
This plant arrived earlier than i expected. It was beautifully shaped and I plan to repot it tomorrow. The leaves were a beautiful shape and it looked just like a starfish. I have other plants on order now and am anxious for them to arrive.