Alocasia baginda 'Silver Dragon'
Alocasia baginda 'Silver Dragon' is one of the so-called "Jewel Alocasias," and we count ourselves extremely lucky to have a small number of these special plants available. These compact plants are prized for their beautifully textured, peltate leaves with a silvery-green hue. The undersides have striking venation! Not for beginners, this plant is known to require precise care, but will reward the collector with its mesmerizing foliage.
PLANT CARE
• Light: Bright, indirect light
• Water: Water when the top 1-2" of soil feel dry
• Considerations: Use a well-draining, chunky soil mix to promote air circulation to roots. Alocasia need warm temperatures and high humidity. It's common for these plants to drop leaves; don't worry! They can fully grow back from their corms.
WHAT TO EXPECT

You'll get a healthy Alocasia 'Silver Dragon' that meets our rigorous quality standards in your choice of a 4" or 6" nursery pot. No two plants are alike, and yours will have its own unique shape, size and personality; expect this natural variation from the photos.
Our plants include detailed care instructions as well as our Houseplant Best Practices guide, with information on how to repot, seasonal care and more!
We include shipping box warmers at no charge as needed. Got questions? Check out our FAQ!
---
Customer Reviews
I'm so obsessed! Pistils is the best!
I am always so pleased with how my plants arrive when I order from Pistils Nursery! They are the best at packaging the plants you can tell they really care. My plant arrived super healthy and with all the leaves intact. I cannot wait to order more and keep growing my collection!
08/06/2021
ashley s.

United States
Amazing Pack Job!
The silver dragon itself is beautiful - 4 or 5 leaves on it! Pistils always has healthy plants. However, what I am most amazed with is the pack job! It was so carefully and thoughtfully wrapped. Ive ordered plants from all over and this was top notch care like Ive never encountered! 100% recommend plants from pistils and if you are hesitant due to shipping, fear not!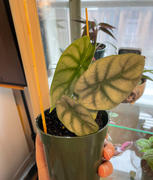 11/19/2020
Paige F.

United States
baginda
Plant arrived with extra special packaging care!