Anthurium forgetii
Anthurium forgetii is one of our favorite velvet aroids we've ever offered. It has dark green velvety leaves with crystalline silver veins. The leaves are also peltate, meaning the petiole connects to the back of the leaf without a sinus. The upside-down teardrop shape makes the plant look almost like a cartoon.
Although highly sought by plant collectors, not much is known about this Anthurium; no one is quite sure where the first specimen was collected, although some say it originates from Colombia. In fact, so little is known about the plant in the wild that botanical institutes don't even list the name species name "forgetii". Although the species might not be recognized by science, we recognize Anthurium forgetii as an important addition to any aroid collection.
PLANT CARE
• Light: Medium to bright, indirect light
• Water: Water thoroughly when the top 1-2" of soil dries out
• Considerations: This plant can't handle direct sunlight. A little extra humidity will help the leaves grow big and healthy.
WHAT TO EXPECT

You'll get a healthy Anthurium forgetii that meets our rigorous quality standards in a 6" nursery pot. No two plants are alike, and yours will have its own unique shape, size, color, and personality; expect this natural variation from the photos. 
Our plants include care instructions as well as our Houseplant Best Practices guide, with information on how to repot, seasonal care and more!
We include shipping box warmers at no charge as needed. Got questions? Check out our FAQ!
---
Customer Reviews
11/05/2021
Haley W.

United States
Anthurium Forgetii
The packaging was top of the line and when my plant arrived it looked as though it had never been shipped at all. I genuinely look forward to my next purchase!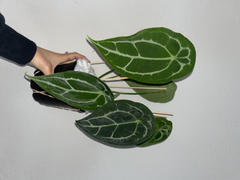 09/17/2021
Allison T.

United States
Anthurium forgetii
Arrived healthy and well packaged! No issues with the plant at all.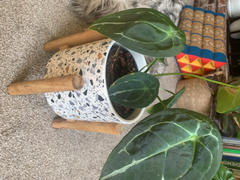 08/20/2021
Sheila M.

United States
Absolutely perfect.
This arrived wrapped perfectly. The plant was in exquisite condition. It is an absolutely stunning plant. I am grateful to Pistils for offering a rare plant such as this. If you buy this plant or one similar, make absolute sure to have a humidifier for it. It thrives on humidity, and its leaves will get crispy without it. I've had mine just a few weeks and it's already sprouting a new leaf!