Begonia 'Fannie Moser'
Dark and moody, Begonia 'Fannie Moser' is an angelwing Begonia that will add a dramatic touch to any collection. The surface of the leaves are so dark that they appear nearly black, with raised silvery spots between the veins. The undersides of the leaves are a deep burgundy, making this hybrid one of our favorites. In contrast to the Jurassic foliage, these plants can produce clusters of pale, pinkish flowers.
PLANT CARE
• Light: Bright, indirect light
• Water: Allow soil to dry moderately between waterings
• Considerations: Regular fertilization encourages blooms. Stake the plant as it grows to keep it upright.
WHAT TO EXPECT

You'll get a healthy Begonia 'Fannie Moser' that meets our rigorous quality standards in a 4" nursery pot. No two plants are alike, and yours will have its own unique shape, size and personality; expect this natural variation from the photos.

Our plants include detailed care instructions as well as our Houseplant Best Practices guide, with information on how to repot, seasonal care and more!
We include shipping box warmers at no charge as needed. Got questions? Check out our FAQ!
---
Customer Reviews
09/02/2021
Emily M.

United States
Thriving!
This plant arrived wrapped so well, and had new leaves unfurling. It's adjusting to its new home happily. Thanks, Pistils!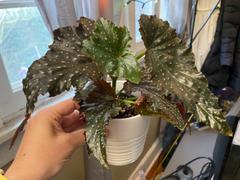 08/25/2021
Beth M.

United States
Beautiful & Healthy!
As usual, this too was perfect! The size, overall health and vibrant color was a perfect representation of what Pistils Nursery is. I have ordered many plants and have NEVER been even remotely disappointed. While I have previously ordered plants from different nurseries simultaneously, Pistils is the only one that I've never had to contact after receiving my plants. And the begonia was gorgeous and full!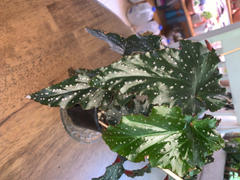 05/04/2021
Lauren B.

United States
Not up to normal expectations
Pretty disappointed in this little one. I recognize shipping sensitive plants can be tough on them. However, I've never had an issue with Pistils in the past (several years). This one came with 3 others, & didn't meet my normal expectations. Most of the leaves were already off by the time it got to me, but it looked as if it didn't have much to begin with before it was sent. I don't think this one was ready for the journey. Since the shipping was so quick this round, I was pretty shocked. The stock is still alive, & I'm hoping it'll make it through.