Begonia 'Fannie Moser'
Dark and moody, Begonia 'Fannie Moser' is an angelwing Begonia that will add a dramatic touch to any collection. The surface of the leaves are so dark that they appear nearly black, with raised silvery spots between the veins. The undersides of the leaves are a deep burgundy, making this hybrid one of our favorites. In contrast to the Jurassic foliage, these plants can produce clusters of pale, pinkish flowers. If you want to learn more about Begonia care, check out our journal entry full of Begonia care tips. 
PLANT CARE
• Light: Bright, indirect light
• Water: Allow soil to dry moderately between waterings
• Considerations: Regular fertilization encourages blooms. Stake the plant as it grows to keep it upright.
WHAT TO EXPECT

You'll get a healthy Begonia 'Fannie Moser' that meets our rigorous quality standards in a 4" nursery pot. No two plants are alike, and yours will have its own unique shape, size and personality; expect this natural variation from the photos.

Our plants include detailed care instructions as well as our Houseplant Best Practices guide, with information on how to repot, seasonal care and more!
We include shipping box warmers at no charge as needed. Got questions? Check out our FAQ!
---
Customer Reviews
Begonia 'Fannie Moser'
My plant exceeded my expectations. I was amazed at the care that was taken to prepare this plant for shipment. I had no idea how intricate this was. When I received the plant it was good healthy color and structurally strong. I will be buying more plants from Pistils Nursery. Thank you, Bev
03/13/2022
Deborah S.

United States
Fannie Moser
I'm new to begonias. This is my first one. I received it about 10 days ago. It is a good size and very healthy. In the 10 days I have had it, it has already grown some. As always Pistils ships their plants well packaged. The delicate leaves were not damaged in any way.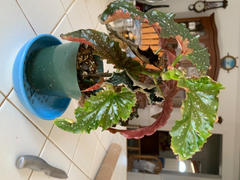 09/02/2021
Emily M.

United States
Thriving!
This plant arrived wrapped so well, and had new leaves unfurling. It's adjusting to its new home happily. Thanks, Pistils!