Begonia 'Looking Glass'
Begonia 'Looking Glass' is a spectacular hybrid with sparkling silver foliage, marked with deep green venation. What's more, the bottoms of the leaves are a beautiful shade of burgundy red, with new growth emerging a rosy pink. Begonia 'Looking Glass' is in the so-called Cane or Angelwing Begonia group, named from their upright, bamboo-like stems and elongated leaves which, side by side, look just like a pair of wings. These plants often produce clusters of pink flowers, making a cheerful addition to your home.
If you want to learn more about Begonia care, check out our journal entry full of Begonia care tips. 
PLANT CARE
• Light: Medium to bright, indirect light
• Water: Allow soil to dry moderately between waterings
• Considerations: Regular fertilization encourages blooms. Stake the plant as it grows to keep it upright.
WHAT TO EXPECT

You'll get a healthy Begonia 'Looking Glass' that meets our rigorous quality standards in a 4" nursery pot. No two plants are alike, and yours will have its own unique shape, size and personality; expect this natural variation from the photos.

Our plants include detailed care instructions as well as our Houseplant Best Practices guide, with information on how to repot, seasonal care and more!
We include shipping box warmers at no charge as needed. Got questions? Check out our FAQ!
---
Customer Reviews
08/07/2021
Linda M.

United States
Beautiful
Came well packaged, and in great condition. Thanks for the care guide as I've got so many different types of plants. Yoir website truly is helpful for how to care for each plant.
06/14/2021
LETTYG

United States
Stunning!
Stunning begonia! Arrived packaged carefully. No dirt in the box and no broken or missing leaves. It has grown double in size. I will be a returning customer. Thank you so much Pistils' Nursery!!!!!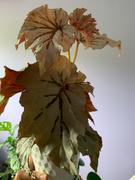 06/04/2021
LJ

United States
Wow
Really stunning foliage: sparkling silver that photos don't do justice. This one's been on my wish list and this was a great price so I ordered two lol. I want to pot up to a larger, heavy container that would support the vigorous vertical growth of cane begonia. I will wait a while because these are short but really dense near the soil surface. A lot of growth points even though it's one young plant in each pot. Huge leaves already, and exactly what I was hoping for.