Calathea 'Beauty Star'
Calathea 'Beauty Star' is another beautifully striped prayer plant, similar to Calathea ornata but with a bright green blush on its elongated leaves. The coloration is so unique, you'll hardly believe that the leaves aren't painted (we assure you, they're real!). Calathea thrive on consistency, and the 'Beauty Star' is no exception. Give it regular water, high humidity and shield it from any hot or cold drafts and this Prayer Plant will reward you with lush, pattered foliage for many years to come.

PLANT CARE
• Light: Medium to bright, indirect light – no direct sun
• Water: Water when the top 1-2" of soil feels dry
• Considerations: This plant demands high humidity to keep foliage pristine – mist regularly or set on a pebble tray. Pet friendly! Check out our Prayer Plant Care Guide for more in-depth information.
WHAT TO EXPECT

You'll get a healthy Calathea 'Beauty Star' that meets our rigorous quality standards in a your choice of a 4" or 6" nursery pot. No two plants are alike, and yours will have its own unique shape, size and personality; expect this natural variation from the photos (6" plant shown).

Our plants include detailed care instructions as well as our Houseplant Best Practices guide, with information on how to repot, seasonal care and more!
We include shipping box warmers at no charge as needed. Got questions? Check out our FAQ!
---
Customer Reviews
07/21/2021
Valerie S.

United States
I have been searching for a plant like this since seeing one in a video.
I absolutely love this plant. I do need to find a larger pot to transplant it to. I had thought that the clay pot would fit, but this plant is larger and needs a bigger pot.
07/09/2021
Rosemary A.

United States
My Beauty Star calathea arrived in perfect condition. I love, love , love it!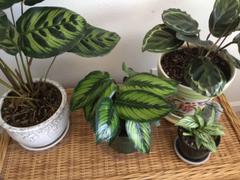 04/16/2021
Candice R.

United States
So beautiful!
Pistils is one of the only shops I trust to ship plants! My calathea was packaged securely and arrived in great condition. I couldn't be happier!