Calathea 'Fusion White'
Calathea 'Fusion White' is a highly variegated Calathea that looks as though someone painted little white brush strokes along the leaf, with lilac purple backsides. Each lanceolate leaf is entirely unique, with its dark green contrasting beautifully against the white and creamy pink sections. Though like many variegated plants it has a reputation for being a bit fussy, the Fusion White's striking appearance certainly makes it one for the collection!
Plant Care
• Light: Medium to bright, indirect light
• Water: Water when the top 1" of soil feels dry
• Considerations: Like most Calathea, the Fusion White does not like to dry out. High humidity and persistent watering will help this plant thrive. Pet friendly!
What to Expect

You'll get a healthy Calathea 'Fusion White' that meets our rigorous quality standards in a 4" nursery pot – Leo Planter sold separately. No two plants are alike, and yours will have its own unique shape, size and personality; expect this natural variation from the photos, which shows a 4" plant.

Our plants include detailed care instructions as well as our Houseplant Best Practices guide, with information on how to repot, seasonal care and more!
We include shipping box warmers at no charge as needed. Got questions? Check out our FAQ!
---
Customer Reviews
03/02/2021
Sharon P.

United States
White Fusion
My Calathea arrived in perfect condition! Just a tiny bit of soil misplaced. I didn't unwrap it for a week because I didn't want to disturb it. It's doing awesome now minus one small leave seems to be unhappy ! I love this plant it's beautiful.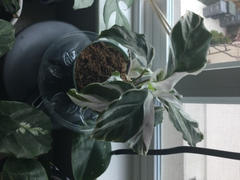 02/11/2021
Natalie C.

United States
Healthy & carefully packaged
My beautiful plant came gently & securely packaged, all of the plants I ordered arrived in great condition. I was surprised at how great this delicate plant endured the transit.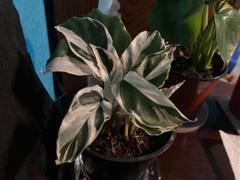 02/06/2021
Melissa H.

United States
Calathea Fusion White
I love it! Very unique and a beautiful color