Calathea orbifolia
Calathea orbifolia is a gem amongst foliage plants. This hard to find Calathea has broad bright green leaves, delicately striped with silvery-blue patterning that looks almost metallic. Elegant and understated, this Calathea is prized for its round leaves which grow quite wide as the plant matures. The new leaves emerge beautifully from the center of the plant, which grows densely and can get rather large for Calathea - up to 2.5' tall and wide, with leaves stretching over 8".
Plant Care
• Light: Medium to bright, indirect light
• Water: Water when the top 1" of soil feels dry
• Considerations: Calathea orbifolia is sensitive to environmental stress, and prone to occasional brown edges/spotting on leaves. High humidity and persistent watering will help this plant thrive. Pet friendly! Check out our Prayer Plant Care Guide for more in-depth information.
What to Expect

You'll get a healthy Calathea orbifolia that meets our rigorous quality standards in your choice of a 4" or 6" nursery pot – Marbled Clay Cachepot sold separately. No two plants are alike, and yours will have its own unique shape, size and personality; expect this natural variation from the photos.

Our plants include detailed care instructions as well as our Houseplant Best Practices guide, with information on how to repot, seasonal care and more!
We include shipping box warmers at no charge as needed. Got questions? Check out our FAQ!
---
Customer Reviews
03/12/2022
Mynah M.

United States
Amazing
The plant came in BEAUTIFUL condition. It looks just like the picture and it's super healthy. They did such a great job packing it too. I will definitely buy from them again.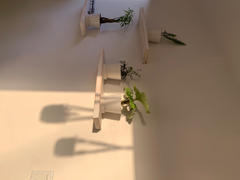 02/16/2022
Thomas

United States
My calathea
My husband purchased a calathea orbifolia for me as a birthday gift, along with a pair of Hoyas. All of the plants were beautifully packaged with care—the calathea had one larger leaf that was bent a bit in the wrapping, and that leaf looks like it's beginning to go a bit limp. A couple of leaves have brown tips, but it's less than a week since it arrived, so I'm optimistically keeping an eye on it.
02/01/2022
C M.

United States
Very pleased!
So pleased with my new plant. It arrived in excellent condition and growing extremely well.