Calathea 'Vittata'
Calathea of all stripes are eye-catching, but the delicate white banding on Calathea 'Vittata' is particularly striking as it appears almost hand-painted. Like most members of the Marantaceae or "Prayer Plant" family, Calathea 'Vittata' has a habit of opening and closing its leaves as day transitions to night. It's leaves are a stunning reminder of the beauty of the natural world. Fortunately, it also makes an easy-care houseplant.
Plant Care
• Light: Medium to bright, indirect light
• Water: Water when the top 1" of soil feels dry
• Considerations: Like most Calathea, the Vittatta does not like to dry out. High humidity and persistent watering will help this plant thrive. Pet friendly!
What to Expect

You'll get a healthy Calathea 'Vittata' that meets our rigorous quality standards in a 4" nursery pot – Planter sold separately. No two plants are alike, and yours will have its own unique shape, size and personality; expect this natural variation from the photos.

Our plants include detailed care instructions as well as our Houseplant Best Practices guide, with information on how to repot, seasonal care and more!
We include shipping box warmers at no charge as needed. Got questions? Check out our FAQ!
---
Customer Reviews
07/02/2020
Patricia G.
United States
Vittata to Makoyana!
I originally ordered a Calathea 'Vittata' for my collection. Not long before it was to shop I received an e-mail from Pistils telling me that the specimen was not up to their standards. I was offered a refund or a choice of two other calatheas. I chose Calathea 'Makoyana' and am very happy with it. It's a healthy and vibrant plant. I am also very happy with Pistils attention to detail and quality control. Thank you!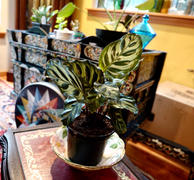 05/24/2020
Jennie F.
United States
Vibrant little plant
Arrived in great condition. Pistils Nursery is my go-to nursery for mail order plants!
05/20/2020
Lauren A.
United States
Couldn't be happier!
I really couldn't be happier with my first order from Pistils (it is already not my last order, either...) My plant arrived very well packaged and healthy - the leaves were in perfect condition! This little plant makes my day and it already has unfurled a few new leaves!! Thanks for brightening up my home. :)