Cork Round
Protect your furniture, floors and surfaces from scratching with Cork Rounds, perfectly sized to fit under most standard planters. These soft cork pads are our go-to for protecting surfaces from the rough edges of planters and pottery. The bottom of each mat is sealed with plastic backing for extra protection against water damage. If you love your furniture as much as your plants, they're a no brainer!
Available in 4", 6", 8" (not pictured), 10" and 12" diameters. Each Cork Round sold separately.
---
Customer Reviews
Thanks
Everything was delivered in great shape, even a few days earlier than the tracking information implied. Plant looked good and cork rounds work fine.
12/10/2021
Yi-Ping L.

United States
Cork mat
Wonderful and thin, to absorb overfill of pots n water damaging the table surface, or preventing the bottom of ceramic pots sticking to the paint of windowsill and peeling off the paint esp with moisture. Great product as intended.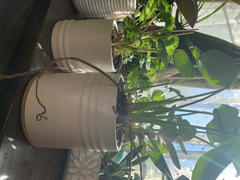 09/09/2021
Pamela W.

United States
Cork Rounds
I ordered a couple of the cork rounds, not knowing what to expect. I was very impressed with their sturdiness! So much so that ordered a few more with a recent order! I like how they protect the surfaces. I plan to order more with future orders!