Ctenanthe 'Amagris'
Ctenanthe 'Amagris' has silvery green leaves that have a delicate dark green herringbone pattern and purple undersides. Though native to Southeastern Brazil, the Amagris originally appeared as a chance mutation of the Fishbone Prayer Plant at a Belgian nursery. Struck by its compact form and simple leaves, they decided to select for the mutation, and the Amagris is now an officially recognized cultivar of the Ctenanthe burle-marxii! Like the parent plant, the Ctenanthe 'Amagris' has a delightfully compact growth form and a habit of raising its leaves at night and lowering them during the day, earning it a place amongst the "prayer plants."
Ctenanthe 'Amagris' is a low maintenance plant, great for beginners. Place in medium to bright indirect light and water when the top 1-2" of soil feel dry. Mist periodically.
Ships in a 6" plastic nursery pot. Leaves measure 1-2" long and about 1" wide. Each specimen has multiple clumps, eventually growing to about 10-16". Some natural variation in size and appearance may occur.
Hand Thrown Ceramic Planter sold separately. Includes detailed care instructions.
SHIPPING AND DELIVERY INFO
Items in our Rare Flora collection require special pre-shipping preparation, and ship within 3-5 business days. You'll receive a shipping notification email with tracking when your order ships. Box warmer included at no additional charge as necessary during cold months.
International shipping unavailable due to customs restrictions. [More Info]
---
Customer Reviews
05/22/2019
Jennifer C.
United States
Ctenanthe 'Amagris'
I've been after this for a long time. I absolutely love it. However, a lot of the leaves, over half, had some browning & crispiness on them. I think it's either to much sun or the traveling in the mail. I had to take off a star due to that because I'm just not sure what its from. But I'm absolutely in love with this plant. I'll take the crispy leaves to have the plant. I just cut them off & see new growth already. Thanks Pistils!
01/27/2019
Michael V.
United States
Ctenanthe 'Amagris'
I have been looking for this plant for awhile. Was thrilled when Pistils sent me a notification that some were available. I ordered immediately. My plant arrived within a few days and even though it was the coldest weather YTD in the mountains of western NC the plant arrived in perfect condition and has been thriving so far in the week I have had it. It is a very full short plant. Leaves are on the smaller side. I expect the plant to really take off once spring arrives. Very pleased with the notification update, ordering, shipping and plant that was sent to me.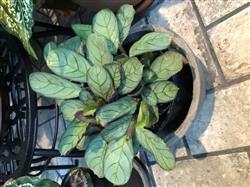 09/02/2018
Alice T.
United States