Custom Plant - Quick Listing
Welcome to our custom plant quick listing, where we post short runs and small quantities of hard to find houseplants available for shipping. As these are rare, home-grown plants, expect plenty of variation from pot to pot. Choose your desired species from the dropdown, above.
Currently Available:
- 4" Hoya carnosa 'Krimson Queen': This Hoya variety is delicately variegated around the leaf margin, with a deep green leaf interior. New leaves and vine tips grow in flushed pink, though they mellow out to cream and green with time and maturity. As with other Hoya varieties, plenty of light and conservative watering keeps this semi-succulent tropical happy. Overall size 3-5" | $12
- 6" Calathea sp.: This rose-painted Calathea species features a rounded leaf with a delicate green and cream variegation and a deep purple underside. Much like other Calathea, this tender-leafed specimen is very sensitive to aridity and needs frequent watering to thrive. Protect from bright light to encourage deep colors in the foliage and prevent sunburn. Overall size 10-12" | $28
SHIPPING AND DELIVERY INFO
Items in our Specimen Plants collection require special pre-shipping preparation, and ship within 3-5 business days. You'll receive a shipping notification email with tracking when your order ships. Box warmer included at no additional charge as necessary during cold months.
International shipping unavailable due to customs restrictions. [More Info]
---
Customer Reviews
01/11/2020
Erin P.
United States
Another lovely plant
I purchased a Philodendron 'Prince of Orange' as a quick listing. The plant is lovely and very healthy looking. I live locally, so I picked it up in person, but I have no doubt it would have been packed carefully had it been shipped. Looking forward to watching this beauty grow!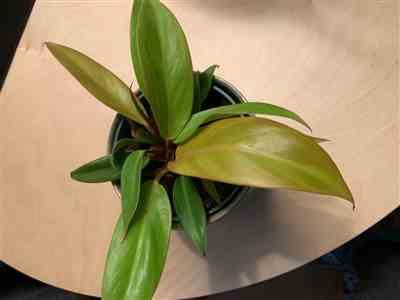 01/08/2020
Pritam N.
United States
White fusion and tetrasperma
The whole proceed was great. It was my first order of plants from online shop so was a little nervous but the experience was great. So happy with both my plants. Doing so well too.