Dischidia ruscifolia - Million Hearts
Dischidia ruscifolia is nicknamed Million Hearts because of the way its long, vining stems are laden with pairs of heart-shaped, bright green leaves. This plant has a delicate cascading habit, and its vines can grow upwards of 3 feet long. Closely related to the Hoya genus, Dischidia have similarly firm, semi-succulent foliage. Growing as an epiphyte in the forests of its native habitat in the Philippines, this plant also makes a great candidate for mounting as it requires little root space to thrive. Eventually, Million Hearts will reward you with sweet tiny pink flowers that appear amongst the leaves.

PLANT CARE
• Light: Bright, indirect light
• Water: Water when the top 2" of soil feels dry
• Considerations: Dischidia ruscifolia can dry moderately between waterings. Slightly puckered foliage means the plant is thirsty
WHAT TO EXPECT

You'll get a healthy Dischidia ruscifolia that meets our rigorous quality standards in a 2" or 5" nursery pot. No two plants are alike, and yours will have its own unique shape, size and personality; expect this natural variation from the photos.
Our plants include detailed care instructions as well as our Houseplant Best Practices guide, with information on how to repot, seasonal care and more!
We include shipping box warmers at no charge as needed. Got questions? Check out our FAQ!
---
Customer Reviews
11/25/2020
Rebekah W.

United States
Definitely will order again!!!
So happy with my purchase from Pistils Nursery. Everything I ordered arrived beautifully. I love my plants so much I will definitely order again for myself and for gifts for my friends.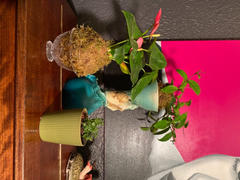 11/20/2020
Tara R.

United States
Wonderful!
Plant arrived healthy and so sweetly packaged. I couldn't have asked for me!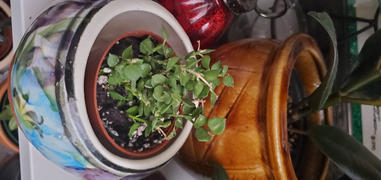 08/05/2020
Shawnda G.

United States
Delightfully Silly
My lovely little plant is whimsical with its tiny hearts. It arrived in perfect condition and continues to flourish. I tried waiting the recommended two weeks before repotting. After about 10 or 11 days I gave it a new home and a little blessing! It seems very happy!