Dischidia ruscifolia variegata - Variegated Million Hearts
Dischidia ruscifolia variegata is the variegated forms of one of our favorites in the genus. Nicknamed "Million Hearts" due to the heart-shaped leaves that form densely along its vining stems, Dischidia ruscifolia grows as an epiphyte in its native environs, and will readily root for easy propagation and mounting. The variegated variety is exceedingly hard to come by, so we feel very lucky to have these starter plants available!
PLANT CARE
• Light: Bright, indirect light
• Water: Water when soil has nearly dried out
• Considerations: Dischidia ruscifolia can dry moderately between waterings. Slightly puckered foliage means the plant is thirsty
WHAT TO EXPECT

You'll get a healthy Dischidia ruscifolia variegata that meets our rigorous quality standards in a 2" nursery pot. No two plants are alike, and yours will have its own unique shape, size and personality; expect this natural variation from the photos.
Our plants include detailed care instructions as well as our Houseplant Best Practices guide, with information on how to repot, seasonal care and more!
We include shipping box warmers at no charge as needed. Got questions? Check out our FAQ!
---
Customer Reviews
06/15/2020
Ira T.

United States
Million Hearts
My million hearts plant was well packaged. I am super please as I have had it for about 3 weeks and it is spouting beautifully. These plants are low maintenance and absolutely beautiful.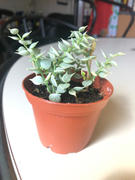 04/15/2020
Crystal A.

United States
Million hearts
NEEDED this plant to add to another I found at a local nursery! I love the variegation!
04/10/2020
Samantha H.

United States
Great!
It came with a little dead branch but that's alright! It's doing great and it's such a cutie.