Ficus elastica 'Tineke'
Ficus elastica 'Tineke' is a variegated cultivar of the classic Rubber Tree, whose leaves are splashed with white, sage and emerald green, often with pink central veins. The new leaves sometimes emerge with bright pink that fades to cream as it hardens off. Native to South Asia, Ficus elastica is a member of the fig genus. Its milky sap was originally used to make latex, which is why this plant is often called the Rubber Tree. Its uniquely colored foliage make the 'Tineke' cultivar a favorite indoor tree for anyone who appreciates variegation.

The plant featured in the listing photos is in a 6" pot.
PLANT CARE
• Light: Provide bright, indirect light
• Water: Water when the top 1-2" of soil feels dry
• Considerations: Ficus can be finicky plants, and tend to drop leaves when stressed. Avoid moving your plant once positioned
WHAT TO EXPECT

You'll get a healthy Ficus elastica 'Tineke' that meets our rigorous quality standards in a 6" nursery pot. No two plants are alike, and yours will have its own unique shape, size and personality; expect this natural variation from the photos.
Our plants include detailed care instructions as well as our Houseplant Best Practices guide, with information on how to repot, seasonal care and more!
We include shipping box warmers at no charge as needed. Got questions? Check out our FAQ!
---
Customer Reviews
09/11/2021
Arlene B.

United States
Happy and Healthy
I received a happy and healthy plant. I did not expect that there will be 3 plants in the pot. I'm seeing new growth on each of them. Thank you!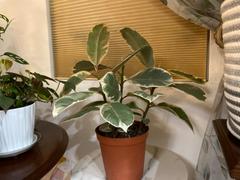 06/24/2021
Athita K.

United States
Great purchase!
Beautiful rubber plant!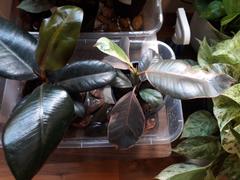 06/10/2021
Daniela R.

United States
Best package ever
I ordered a hanging pot and a Tineke. Everything packed so carefully and with love. Even framed the houseplant guide card. Hope I can visit this nursery in person one day!