Ficus lyrata 'Bambino' - Little Fiddle
Fiddle Leaf Figs were made famous in the last few years from design blogs and instagram photos showing tall beautiful trees filling bright corners in minimalist homes. They're the perfect accent tree. Shipping 8-ft trees is hard, but we wanted to join in!
Ficus lyrata 'Bambino' is a special variety of Fiddle Leaf Fig that's perfect for small spaces. The growth is more compact, and the leaves stay a little smaller. This is perfect for growers with small spaces or for collectors who are running out of room but want their own FLF.
PLANT CARE
• Light: Provide bright, indirect light
• Water: Water when the top 1-2" of soil feels dry
• Considerations: Ficus can be finicky plants, and tend to drop leaves when stressed. Avoid moving your plant once positioned and avoid drafty locations.
WHAT TO EXPECT

You'll get a healthy Ficus lyrata 'Bambino' that meets our rigorous quality standards in a 4" nursery pot. No two plants are alike, and yours will have its own unique shape, size and personality; expect this natural variation from the photos.
Our plants include detailed care instructions as well as our Houseplant Best Practices guide, with information on how to repot, seasonal care and more!
We include shipping box warmers at no charge as needed. Got questions? Check out our FAQ!
---
Customer Reviews
Fig Tree
got here in great shape and is doing well so far
05/01/2022
Heather S.

United States
Bambino Fig
Packaged very well and no issues after opening it. Make sure to follow their care directions. Mine was very dry but did great after a 20 min bath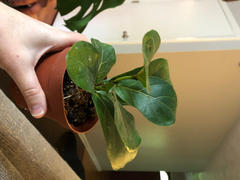 03/16/2022
Julie S.

United States
Little Fiddle
I received a healthy looking Ficus Lyrata 'Bambino' with a beautiful newly-opened leaf in the center. The plant was packaged carefully by Pistils. I've purchased eight plants from Pistils over the past year and they continue to do well.