Gasteria 'Sakura Fuji'
Gasteria 'Sakura Fuji' is a rare, variegated Gasteria cultivar. Though Gasteria are endemic to South Africa, this cultivar is said to have originated in Japan. Its minty green leaves are striped with white and occasional ribbons of darker green. Like most Gasteria, the 'Sakura Fuji' grows in a clumping habit, with the "mother" plant producing plantlets which can grow together in the same pot, or be easily divided for propagation. This slow growing, compact arid plant works well in desert terrariums, or potted in a well-draining container.
PLANT CARE
• Light: Bright diffused to direct light
• Water: Drought tolerant. Let soil completely dry between waterings
• Considerations: Use a well-draining cactus/succulent soil, and select a planter with drainage

WHAT TO EXPECT

You'll get a healthy Gasteria 'Sakura Fuji' that meets our rigorous quality standards in a 4" nursery pot. No two plants are alike, and yours will have its own unique shape, size and personality; expect this natural variation from the photos.
Our plants include detailed care instructions as well as our Houseplant Best Practices guide, with information on how to repot, seasonal care and more!
We include shipping box warmers at no charge as needed. Got questions? Check out our FAQ!
---
Customer Reviews
05/24/2021
Serenity C.

United States
Beautiful!!!
Came well packaged and super cute!! This is my third time purchasing from pistils, will def purchase again!
05/13/2021
Sandra D.

United States
Gasteria "Sakura Fuji"
I love it . It's something different . I enjoy plants that are unique.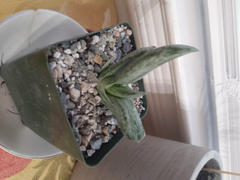 04/07/2021
Jennifer L.

United States
Even More Beautiful Than I Hoped!
What a thrill to open the box to find such a healthy, gorgeous plant! This is my first gasteria, so it was really important to me that I start with the healthiest, happiest plant possible, and that's exactly what Pistils sent. It was also my first order from Pistils but it definitely won't be my last - in fact, I've already ordered again!