Hatiora salicornioides - Drunkard's Dream
Hatiora salicornioides looks like something from an underwater dreamscape. Composed of many tube-like branches that grow from upright, woody stems, Hatiora salicornioides is often called by its common names -- "Dancing Bones" and "Drunkard's Dream" cactus -- because of its contorted growth habit and bottle-shaped segments. Each stem can grow to be quite long, and eventually the Hatiora will gently cascade over the edges of its pot. When the cactus blossoms, tiny bright yellow flowers develop into small pink berries. 
A jungle cactus, Hatiora salicornioides is epiphytic, meaning that it grows in the crooks of trees in its native forest habitat. This means that it requires little soil to survive, and is tolerant of lower light and more moisture than most cacti. As such, it's an exceptionally easy houseplant to care for, perfect for houseplant beginners and experts alike. 
- 4" pot - each specimen has a single clump, approx 3-4" in height
- 6" pot - each specimen has multiple clumps, approx 6-8" in height.
*Limited quantity available.  Ships in plastic nursery pot. Pictures show 6" specimen. Hand Thrown Ceramic Planter sold separately. Natural variation in size and appearance does occur. 
SHIPPING AND DELIVERY INFO
Items in our Rare Flora collection require special pre-shipping preparation, and ship within 3-5 business days. You'll receive a shipping notification email with tracking when your order ships. Box warmer included at no additional charge as necessary during cold months.
International shipping unavailable due to customs restrictions. [More Info]
---
Customer Reviews
ED
11/24/2019
Evelyn D.
United States
Drunkard's Dream
This is a cute little plant, and it arrived like all the other plants I've ordered from Pistil's - in perfect condition. I'm amazed at how well they pack delicate plants to survive shipping across the country. I'm interested to see how this one does, since I've never owned this variety before.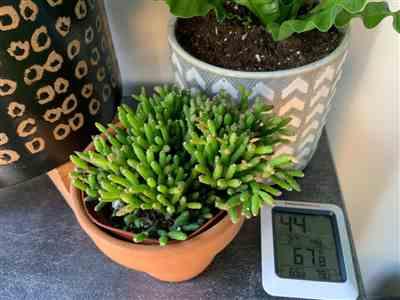 11/07/2019
Cynthia T.
United States
arrived across country in perfect condition
Despite being kind of fragile these little guys arrive no worse for wear... from Washington to New Hampshire and yet nothing was broken. You guys rock ! Thank you.
09/05/2019
Mikela C.
United States
Dreamy little cactus!
I have wanted a Drunkard's Dream cactus for a long time and was delighted when Pistil's notified me they were in stock. My plant arrived quickly, but due to the delicate nature of the cactus most of its little "bottles" fell off and it's still Beautiful and Full. No complaints at all!!! I may even get some of the fallen bottles to root. You can't go wrong buying plants from Pistils Nursery.