Hemionitis arifolia - Heart Fern
This delicate fern is beloved by houseplant collectors for its perfectly heart-shaped leaves. Deep green and shiny, the 2-4" leaves grow on short fuzzy stems. The dwarf growth habit of the Heart Fern makes it a perfect choice for small spaces. What's more, since the it loves water, this fern is ideal for containers with or without drainage, and can happily be planted in an enclosed terrarium. 
The Hemionitus arifolia thrives in medium to bright indirect light, and needs to stay moist at all times. Unlike many houseplants which don't like to stay wet, this sweet fern is perfect for that indoor gardener who wants to "over-love" their plants. 
Ships in a 4" plastic nursery pot. Each specimen has multiple stems, approximately 3-5" in length. Natural variation in size and appearance does occur.
*Limited quantity available. Case Study Desk Top Planter sold separately. Includes detailed care instructions.
SHIPPING AND DELIVERY INFO
Items in our Specimen Plants collection require special pre-shipping preparation, and ship within 3-5 business days. You'll receive a shipping notification email with tracking when your order ships. Box warmer included at no additional charge as necessary during cold months.
International shipping unavailable due to customs restrictions. [More Info]
---
Customer Reviews
12/30/2019
Ann H.
United States
My lovely Heart Fern
My Heart Fern arrived in good time and was in good condition, although with a few stems broken. It has recovered from its trip and is doing well so far. I think it is a lovely little plant and I look forward to seeing it thrive. Thank you Pistils Nursery for your excellent service.
12/17/2019
Dawn M.
United States
It's a cute little plant
Here is my little heart fern, along with the rest of my recent order -- Norfolk Island pine, Christmas cactus, and lemon-lime philodendron. Everything looks great. The fern is my first plant that wants to be wet all the time, so I'll keep it on my dining table where I can keep an eye on it. Side note: the plant has one really long stem with a single leaf at the end, and when I pull down on it and let go it does a kind of ga-boing, ga-boing, ga-boing thing. So that's fun.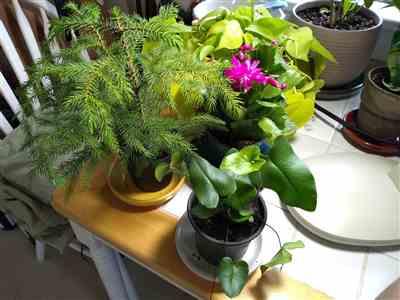 11/24/2019
Dawn D.
United States