Hemionitis arifolia - Heart Fern
This delicate fern is beloved by houseplant collectors for its perfectly heart-shaped leaves. Deep green and shiny, the 2-4" leaves grow on short fuzzy stems. The dwarf growth habit of the Heart Fern makes it a perfect choice for small spaces. What's more, since the it loves water, this fern is ideal for containers with or without drainage, and can happily be planted in an enclosed terrarium. 
Plant Care
• Light: Medium to bright indirect light
• Water: Water when the top 1" of soil feels barely moist
• Considerations: Heart Ferns are great for terrariums, because they love to stay moist. Take care not to let the plant dry out!
What to Expect

You'll get a healthy Hemionitis arifolia that meets our rigorous quality standards in your choice of a 4" or 6" nursery pot – Case Study Planter sold separately. No two plants are alike, and yours will have its own unique shape, size and personality; expect this natural variation from the photos.
Our plants include detailed care instructions as well as our Houseplant Best Practices guide, with information on how to repot, seasonal care and more!
We include shipping box warmers at no charge as needed. Got questions? Check out our FAQ!
---
Customer Reviews
Beautiful plant
Plant arrived in great condition. Plant was great. Packing was study in how to do it. Plant does love its humidity. Happier in terrarium than out. Happier in (mostly) closed terrarium than open.
05/19/2022
Suzan M.

United States
Heart Fern
Beautiful dark green ferns arrived in perfect condition. I have not had any luck in keeping previous heart ferns alive. These are in a terrarium and are doing well.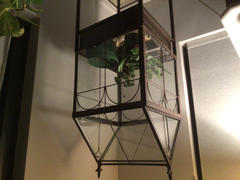 04/09/2022
Sandy R.

United States
Poor heart fern!
I've killed two so far. Can't seem to find the sweet spot for moisture. Certainly not Pistils fault