Hoya burtoniae
This rarely offered Hoya is a staff favorite here at Pistils. The complete name for this plant is Hoya sp. aff. burtoniae, because there's actually a lot of debate about the true identity of the plant. "Sp. aff." stands for species affinis, meaning it's potentially a new, yet-to-be-described species that is similar, but not identical, to a named species (in this case, Hoya burtoniae). Nomenclature aside, we absolutely love this Hoya's plump almond-shaped leaves that are slightly fuzzy, and often edged with reddish-brown (especially when sun-stressed). Hoya sp. aff. burtoniae is an easy grower that eventually produces clusters of pink flowers.
PLANT CARE
• Light: Perfect for bright, indirect light. Some direct sun okay.
• Water: Drought tolerant. Water when the top half of soil feels dry to the touch or when the leaves feel thin and flimsy.
• Considerations: Use a well-draining soil, and select a planter with drainage. Pet friendly! Read our Hoya journal entry for more information.
WHAT TO EXPECT

You'll get a healthy Hoya burtoniae that meets our rigorous quality standards in a 6" nursery pot . No two plants are alike, and yours will have its own unique shape, size and personality; expect this natural variation from the photos.
Our plants include detailed care instructions as well as our Houseplant Best Practices guide, with information on how to repot, seasonal care and more!
We include shipping box warmers at no charge as needed. Got questions? Check out our FAQ!
---
Customer Reviews
So cute
I have been on a mission to build my Hoya collection and this cute little guy came packed well and my plant is very healthy and thriving in its new environment thanks the the top quality of plant that was shipped to me.
04/09/2022
Patricia L.

United States
loving it
healthy plant, soil of was in was kind of odd for the plant and it looks like algae was growing on it but overall healthy and beautiful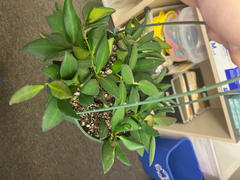 03/26/2022
Debra H.

United States
Incredible Hoya Burtoniae "Love"
I am so impressed with this Hoya plant and so very happy that I purchased it. The beautiful shape of the leaves and color along with the velvet touch. Makes this Hoya a standout beauty that catches your eye every time you pass it. Pistils makes sure that the plant you receive is full and healthy. They pack and ship your plants so that when you get them they are in perfect shape. This is why I depend on Pistils for my plants because I know I can trust a great plant.