Hoya carnosa 'Krimson Princess'
Hoya carnosa 'Krimson Princess' is one of our favorite variegated cultivars of the standard Waxplant. Its thick, lanceolate leaves are adorned with creamy yellow to white variegation in the leaf centers. The plant's vines and new leaves often emerge a bright pink. Growing long, winding vines, this plant is eager to climb, but will happily cascade down the sides of the pot, making it an ideal choice for a trellis or hanging planter.

PLANT CARE
• Light: Perfect for bright, indirect light
• Water: Drought tolerant. Water when the top 1-2" of soil feels dry to the touch 
• Considerations: Use a well-draining soil, and select a planter with drainage. Pet friendly!
WHAT TO EXPECT

You'll get a healthy Hoya carnosa 'Krimson Princess' that meets our rigorous quality standards in your choice of a 4" or 6" nursery pot – Hand Thrown Ceramic Planter sold separately. No two plants are alike, and yours will have its own unique shape, size and personality; expect this natural variation from the photos.
Our plants include detailed care instructions as well as our Houseplant Best Practices guide, with information on how to repot, seasonal care and more!
We include shipping box warmers at no charge as needed. Got questions? Check out our FAQ!
---
Customer Reviews
07/30/2020
Melanie K.
United States
Very pleased Hoya Collector!
I am so thoroughly impressed with the Hoya Krimson Queen I received. For a plant that travel cross-country from OR to NY, it arrived with barely any soil lost and only one broken leaf, all tendrils in tact. The soil mixture shows me Pistils know their plants well and I can not say enough about how beautiful a sepcimen I received. The shape, new growths, color, all better than I expected. The shipping took a bit longer than anticipated but these are pandemic times and no one desparatly needs a plant delivery. Thanks so much Pistils Nursery team!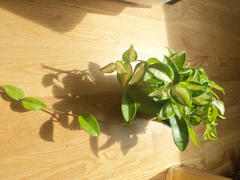 07/22/2020
Barbara C.
United States
06/30/2020
Brooke B.
United States
Perfect Condition!
My Hoya Carnosa came perfectly packaged with no damage or browning leaves, and the soil was still moist. Beautiful, healthy plant and is already sprouting new growth. Thank you!