Hoya curtisii
Hoya curtisii has tiny, spade-shaped leaves that are olive-green in color, mottled with splashes of silver-blue variegation. Its leaves emerge densely on creeping vines which will form a dense mat over the soil before cascading down the sides of the pot. Like all Hoyas, the leaves, stems and flowers are thick and waxy, and members of the genus are often called Wax Plants. This one is quite hard to find - a Hoya for the collector!
PLANT CARE
• Light: Perfect for bright, indirect light
• Water: Drought tolerant. Water when the top 1-2" of soil feels dry 
• Considerations: Use a well-draining soil, and select a planter with drainage. Pet friendly!

WHAT TO EXPECT

You'll get a healthy Hoya curtisii that meets our rigorous quality standards in a 4" nursery pot. No two plants are alike, and yours will have its own unique shape, size and personality; expect this natural variation from the photos.
Our plants include detailed care instructions as well as our Houseplant Best Practices guide, with information on how to repot, seasonal care and more!
We include shipping box warmers at no charge as needed. Got questions? Check out our FAQ!
---
Customer Reviews
09/08/2021
Debra H.

United States
Hoya Curtisi Full & Beautiful
The shipment of the Hoya Curtisi was full and beautiful with bright foliage showing the care Pistils Nursery takes with all their plants and shipping of them.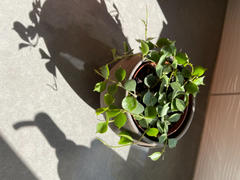 11/04/2020
Connie K.

United States
Excellent Customer Services
I ordered hoya curtisii, hoya obovata and string of heart in this order. Every one of them came wrapped in great condition. In previous order one of my marbled clay pot arrived in two pieces, but Pistils responded and resolved this within few days. I know I'm coming back for more of their plants and pots!
09/30/2020
Sophie S.

United States
Adorable lil plant
I got the 6" hoya curtisii. I love this plant and it reminds me of the ceropegia woodii. The plant I received didn't have any vines trailing over the edges (like in the photos), but it was a really full pot. When I received the plant, it was really happy and in great condition. It only took 2 days travel time to reach me in California, which is great. A week or so later the plant does have a few yellow leaves, but that is to be expected after a few days in a box. Every time I order from Pistils, I'm always happy with the plants I receive and the time it takes the plants to reach me, once shipped.