Hoya lanceolata bella - Miniature Wax Plant
Sale specimens are smaller than traditional specimens, with vining stems approximately 3-5" in length.
Hoya lanceolata subsp. bella has delicate, lance-shaped leaves that emerge light green from orange-pink stems. A subspecies of Hoya lanceolata, the bella doesn't grow quite as large, with individual vines growing to only 18 or so inches, which is why it's often referred to as the Miniature Wax Plant. Hoya lanceolata bella is semi-succulent and drought tolerant, and perfect for bright, indirect light. What's more, this Hoya is a profuse bloomer when the plant reaches maturity. Its clusters of white and pink star-shaped flowers are heavily perfumed, with a scent that is rich and sweet.
Place your Miniature Wax Plant where it will receive plenty of bright indirect light and allow to dry moderately between waterings.
Ships in a 6" plastic nursery pot. Each specimen has multiple vining stems, approximately 5-8" in length. Some natural variation in size and appearance may occur.
*Limited quantity available. Hand thrown ceramic planter sold separately. Includes detailed care instructions.
SHIPPING AND DELIVERY INFO
Items in our Specimen Plants collection require special pre-shipping preparation, and ship within 3-5 business days. You'll receive a shipping notification email with tracking when your order ships. Box warmer included at no additional charge as necessary during cold months.
International shipping unavailable due to customs restrictions. [More Info]
---
Customer Reviews
11/23/2019
Mary E.
United States
Beautiful plant
The Hoya is lovely and quite full. It is doing well and I look forward to the time when it is mature enough to bloom.
ED
11/22/2019
Evelyn D.
United States
Love this Hoya!
I've been ordering pretty regularly from Pistil's since moving into my new house, and everything they've sent me is doing really well. This Hoya lanceolata bella is no exception. Its only been about 10 days and I'm seeing new growth. Looks healthy and vibrant. They do an amazing job of wrapping their plants so that they survive the shipping journey and arrive unscathed. Love the variety, too.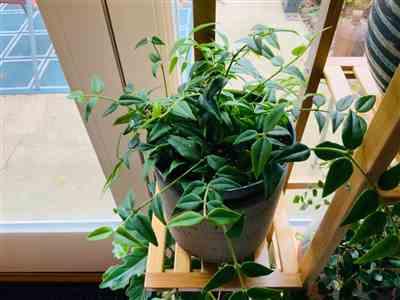 06/30/2019
Mikela C.
United States
Beautiful Healthy Plant!
My Hoya lanceolata bella is a beautiful, full plant. It was packed carefully with the safety of the long branches in mind. Only a tiny amount of soil spilled out which was amazing! I totally wish the people I have bought orchids from were as careful. I will definitely be buying more plants from Pistils.