Hoya lanceolata ssp. bella - Miniature Wax Plant
Hoya lanceolata subsp. bella has delicate, lance-shaped leaves that emerge light green from orange-pink stems. A subspecies of Hoya lanceolata, the bella doesn't grow quite as large, with individual vines growing to only 18 or so inches, which is why it's often referred to as the Miniature Wax Plant. Hoya lanceolata bella is semi-succulent and drought tolerant, and perfect for bright, indirect light. What's more, this Hoya is a profuse bloomer when the plant reaches maturity. Its clusters of white and pink star-shaped flowers are heavily perfumed, with a scent that is rich and sweet.

PLANT CARE
• Light: Perfect for bright, indirect light
• Water: Drought tolerant. Water when the top 1-2" of soil feels dry to the touch 
• Considerations: Use a well-draining soil, and select a planter with drainage. Pet friendly!
WHAT TO EXPECT

You'll get a healthy Hoya bella that meets our rigorous quality standards in your choice of a 4" or 6" nursery pot – Hand Thrown Ceramic Planter sold separately. No two plants are alike, and yours will have its own unique shape, size and personality; expect this natural variation from the photos.
Our plants include detailed care instructions as well as our Houseplant Best Practices guide, with information on how to repot, seasonal care and more!
We include shipping box warmers at no charge as needed. Got questions? Check out our FAQ!
---
Customer Reviews
Hoya Bella
My hoya Bella arrived perfectly packaged and in wonderful shape. Nice, full size. Can't complain at all. Hopefully I can keep it happy!
02/10/2022
Carlotta B.

United States
Abundantly Healthy Hoya Bella
Delivery was delayed due to severe weather but plant arrived in good condition just as pictured with only a few leaves showing cold shock. Am confident it will revive itself soon.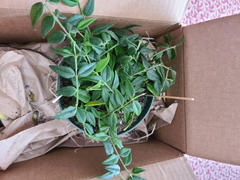 07/03/2021
Lynn W.

United States
Very pleased!
My first plant from Pistils. Very impressed receiving this beautiful healthy plant in perfect condition !