Hoya macrophylla 'Variegata'
Hoya macrophylla 'Variegata' is a rare species that has large, textured leaves whose margins are variegated with patches of creamy white and pink. The new leaves emerge pink from long vining tendrils, and this Hoya sure loves to climb. Like all members of the genus, it has waxy leaves, stems and flowers, which develop in fragrant clusters as the plant reaches maturity. We've found this variegated Hoya to be easy to grow, with leaves ultimately around 5" long!

PLANT CARE
• Light: Perfect for bright, indirect light
• Water: Drought tolerant. Water when the top 1-2" of soil feels dry to the touch 
• Considerations: Use a well-draining soil, and select a planter with drainage. Pet friendly!
WHAT TO EXPECT

You'll get a healthy Hoya macrophylla 'Variegata' that meets our rigorous quality standards in your choice of a 4" or 6" nursery pot. No two plants are alike, and yours will have its own unique shape, size and personality; expect this natural variation from the photos.
Our plants include detailed care instructions as well as our Houseplant Best Practices guide, with information on how to repot, seasonal care and more!
We include shipping box warmers at no charge as needed. Got questions? Check out our FAQ!
---
Customer Reviews
03/05/2022
Helen C.

United States
Love her so much❣️
OMG! I love this beautiful Hoya Macrophylla Variegata! Her leaves are so impressive and the raised leaf patterns make this a favorite thus far. I have many Hoyas on my Wish List and feel I can't get enough of them! Thank you Pistils for your great Customer Service and outstanding plants❣️You rock Helen C.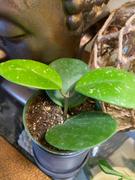 02/23/2022
Elizabeth G.

United States
Great plant and a very satisfied customer!
I am very pleased with my Hoya macrophylla "Variegate"! It arrived well packaged and in great condition, and has acclimated to my home without incident. The plant has 7 healthy looking leaves and does not appear to have any issues.
12/08/2021
Nicole D.

United States
Such a cutie!
I love this plant so much! Took a little longer then I expected for it to be shipped but it was in good condition when it arrived, aside from a torn leaf. All in all I'm so happy with this plant, I've had it a few weeks now and it's already putting off new growth.