Hoya obovata
Hoya obovata is one of our very favorite specimen plants. It has large, deep green oval-shaped leaves, often speckled with flecks of white and pink. The leaves emerge on long tendrils that shoot out dramatically from the base of the plant. Over time, these vines grow to be quite long, eventually setting sweet-smelling flowers that look like little clusters of pink stars. Hoya obovata will happily climb up a stake or trellis, or set your pot in a hanger or on high shelf and let the vines cascade. 
Like all members of the Hoya genus, Hoya obovata is semi-succulent, with thick waxy-leaves, flowers and stems -- in fact, Hoyas are sometimes called "waxplant" or "waxflower." Drought tolerant, and perfect for bright, indirect light, Hoya obovata is easy to care for, an essential member of any houseplant collection.
Ships in a 6" plastic nursery pot with clip-on hanger. Leaves measure 3-4" long and 2-3" wide. Each specimen has multiple vining stems, approximately 5-8" in length. Some natural variation in size and appearance may occur.
*Limited quantity available. Hand thrown ceramic planter sold separately. Includes detailed care instructions.
SHIPPING AND DELIVERY INFO
Items in our Specimen Plants collection require special pre-shipping preparation, and ship within 3-5 business days. You'll receive a shipping notification email with tracking when your order ships. Box warmer included at no additional charge as necessary during cold months.
International shipping unavailable due to customs restrictions. [More Info]
---
Customer Reviews
01/16/2020
Martha L.
United States
Beautiful
I'd wanted an obovata for the longest time, but they were all so very expensive. One day I saw a picture of one at Pistils Nursery and not only was it beautiful but it was priced right. My new plant baby arrived quickly and in excellent condition. I could not be happier! I will definitely be returning to Pistils for more plants.
01/14/2020
Jeffrey J.
United States
One of the nicest hoyas I've ever received in the mail!
I had a small issue with a previous order. The staff of pistils was amazing. They helped me get a refund threw the insurance company. Glad I payed! It was so easy. 24 hrs later I got my money back and got to keep the plants which I'm glad to say I've nursed back to health. I bought this obovata. With the money to show my thanx. I was blown away when I opened the box. Such a gorgeous specimen. Super satisfied with pistils and would recommend them to anyone looking for a cool brick and mortar to spend they're money with online. Thanx again pistils! Can't wait for my next plant!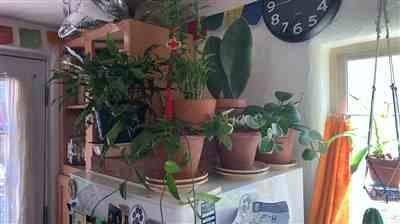 12/31/2019
Lisa B.
United States
Great purchase
I was a little nervous about buying a plant online and in the cold winter months. But, I took a chance and could not be more happy with my Hoya Obovata. I received the plant quickly and it was packed very well. Absolutely no soil lost during transition. I will definitely buy from Pistrils again.