Ludisia discolor - Jewel Orchid
The Jewel Orchid is a showstopper, adored for its stunning foliage. The velvety deep purple-green leaves are lined with bright pink pinstripes, and grow densely on upright stems. The undersides of the leaves are a rich burgundy red, with a shiny texture that catches light beautifully. Like all orchid species, the Jewel Orchid flowers regularly. Jewel orchid flowers emerge in clusters along long stems that shoot out above the foliage. The flowers, small and white with bright yellow centers and pink stems, can last a month or more. Also known by its botanical name, Ludisia discolor, the Jewel Orchid is the only member of its genus, making it an entirely unique member of the orchid family, prized by houseplant collectors.
The Jewel Orchid is exceptionally easy to care for, making it a great option for people just beginning to keep houseplants. It is happiest in low-medium diffused light, but is tolerant of extremely low light conditions. Mist regularly to create a humid environment, and water when the first 1" of soil feels dry.
- 4" pot - specimens have 2-3 stems, approx 3-4" in length
- 6" pot - specimen has 3-4 stems, approximately 6-8" in length. 
Ships in a plastic nursery pot. Pictures show 6" specimen. Hand Thrown Ceramic Planter sold separately. Natural variation in size and appearance does occur.
SHIPPING AND DELIVERY INFO
Items in our Specimen Plants collection require special pre-shipping preparation, and ship within 3-5 business days. You'll receive a shipping notification email with tracking when your order ships. Box warmer included at no additional charge as necessary during cold months.
International shipping unavailable due to customs restrictions. [More Info]
---
Customer Reviews
01/22/2020
Billie C.
United States
Jewell Orchid
I was so pleased with this plant, it is such a beautiful color! The box got pretty beat up in shipping, it was obvious it was thrown about a good bit. But the plant was packed very well, I only had to put the soil back in the pot, water it. they next morning it was all perked up! The blooms on it are already starting to open, can't wait till they do. Glad I purchased this plant1
01/19/2020
Mikela C.
United States
Beautiful!
This is the best deal on a Ludisia discolor I have ever seen. The plants are healthy and every stalk is blooming. The colors of the leaves are spectacular! At orchid shows they sell a single stalk for $20., with a bud. I bought 1 for a gift and after seeing how healthy the plant was, I bought 2 more. One for me and one for my Granddaughter.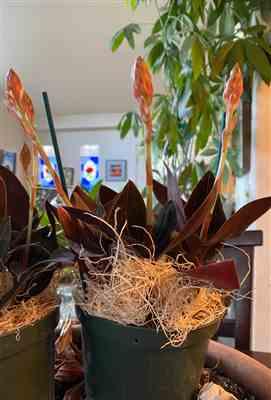 01/18/2020
Linda W.
United States