Ludisia discolor - Jewel Orchid
The Jewel Orchid is a showstopper, adored for its stunning foliage. The velvety deep purple-green leaves are lined with bright pink pinstripes, and grow densely on upright stems. The undersides of the leaves are a rich burgundy red, with a shiny texture that catches light beautifully. Like all orchid species, the Jewel Orchid flowers regularly. Jewel orchid flowers emerge in clusters along long stems that shoot out above the foliage. The flowers, small and white with bright yellow centers and pink stems, can last a month or more. Also known by its botanical name, Ludisia discolor, the Jewel Orchid is the only member of its genus, making it an entirely unique member of the orchid family, prized by houseplant collectors.
PLANT CARE
• Light: Low to medium indirect light
• Water: Water when the top 1" of soil feels dry to the touch 
• Considerations: Mist regularly to create a humid environment. Clip flower spikes after bloom period ends
WHAT TO EXPECT

You'll get a healthy Ludisia disclor that meets our rigorous quality standards in your choice of a 2", 4" or 6" nursery pot – Hand Thrown Ceramic Planter sold separately. Please note, 2" option are exceedingly juvenile plants whose root systems are still in development. No two plants are alike, and yours will have its own unique shape, size and personality; expect this natural variation from the photos.
Our plants include detailed care instructions as well as our Houseplant Best Practices guide, with information on how to repot, seasonal care and more!
We include shipping box warmers at no charge as needed. Got questions? Check out our FAQ!
---
Customer Reviews
05/25/2021
Jacqueline C.

United States
Jewel Orchid
Beautiful plant, came will packaged !
04/27/2021
Kawthar M.

United States
Beautiful and flowering!
I got the 6inch to fill out a 12in planter I had with other Ludisia discolor cuttings and it fits in perfectly. It arrived in perfect condition and I haven't lost any leaves. I don't generally like orchids but these terrestrial one is right up my alley!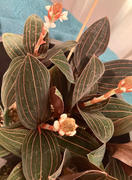 04/08/2021
Adela R.

United States
Lovely plant
Love,love this plant. Very distinct leaves, arrived in excellent condition , can't wait for it to grow!